How to Get Your Partner to Use a Condom
Hump Day: How to Avoid Unprotected Sex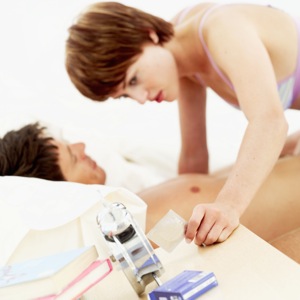 Welcome to Hump Day, TrèsSugar's sex advice column. If you have questions about sex, send them to TrèsSugar, and our friend Dr. Charlie Glickman from Good Vibrations will offer his sound advice!
Today's question: I've noticed that guys are willing to have sex without a condom. How can I bring it up without killing the mood and without resenting them for trying to have sex without protection?
Get Dr. Glickman's advice after the jump.
Yeah, a lot of guys are willing to not practice safer sex. It's ironic, since it's more common for men to have a sexually transmitted infection and not have any symptoms than it is for women. So good for you for wanting to talk about it!
First, you need to get the facts so you can decide where your boundaries are. Safer sex is all about risk reduction since there's no way to be 100 percent safe if you're going to have sex. It's like using a seatbelt when you're in a car — it's not a 100 percent guarantee, but the only way to get that is to never get behind the wheel. The more you know, the easier it'll be to have the conversation. Check out scarleteen.com for really helpful info about safer sex (and a bunch of other sex-related stuff).
Second, it's almost always easier to talk about safer sex before you're turned on. When we get aroused, we're more likely to allow our boundaries to shift and do something that we wouldn't usually do. Plus, if someone is going to freak out or react badly, it's better to find out before clothes come off. After all, why waste your time with someone if he's going to not work out? So bring it up early. That also makes it easier to keep the sexual flow going because you don't need to stop and have the conversation.
If you'd rather not go that route, you could always just grab a condom and some lubricant at the appropriate moment and put it on him. In my opinion, safer sex should be the default option, unless a conversation about not using condoms has taken place. So you could just make it happen — plenty of guys will go along with it.
Third, if someone pressures you, tries to give you a guilt trip, or says something like "let me just put it in, I won't come," I think it's totally fine to feel resentment. Or more accurately, I think it's just fine to feel anger around that. (Resentment is usually anger that we don't want to let out.) You deserve to have a sexual partner treat you with respect and honor your boundaries and safety. If he's not going to do that, or if he's going to try to push you around, listen to your anger. It's telling you that this isn't a guy who's worth being with. And if he tries to blame you for killing the mood, remember that as much fun as sex is, it's not worth being disrespected.
And lastly, it's worth noting that if he's willing to have sex with you without a condom, odds are that he's been willing to do the same with someone else in the past. That makes him much more likely to have an STI, especially if this is something he does with casual partners.