How to Be a Guy's Girl
5 Tips to Be a Guy's Girl Without Sacrificing Your Womanly Self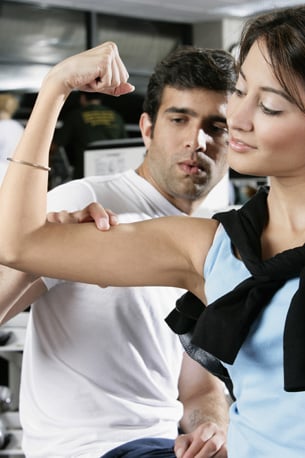 This concept of a "guy's girl" is slightly vague. Is there a checklist of what constitutes a guy's girl that I'm unaware of? Does it mean you have to be a sports fanatic? Do you have to consume wings and beer above all else? Can you still wear makeup and do your hair?
Being a guy's girl does not mean you have to let your girly nature go. Take these five tips for being the girl lots of guys want to be around, without losing your feminine edge.
Low maintenance does not mean lack of style. It does mean that you can't be attached to every mirror that passes by. Confidence is sexy, and all the guy's girls I know, regardless of their body type, hair color, or general physical appearance, have an innately sexy quality. It's not that you don't care. It's that you don't care an unhealthy amount.
Support his guy time. Codependency is a crime for the guy's girl in you. Spending all your time together does not mean that your relationship is complete. In fact, the smothering can be a huge hindrance to the relationship. Plus, if you support the male bonding, his guy friends will support you tenfold.
Be kind to his guy friends, but don't go over the top. You don't have to overcompensate by nervously laughing at every joke or constantly telling his best friend how awesome he is. Just like you see through it when girls are faking it to the max, guys kind of get this, too. The best you can do is be authentic.
Let him be. I'm talking about the picking on your man that makes everyone uncomfortable in the room. His clothes, his music, and his interests are his. Maybe you can try to turn him on to something new that you're into, but you can't expect him to change or fit into this crazy idealized mold you've created. Couples who have serious differences but manage to make it happen are pretty intriguing. Repeat the mantra: "Let him be."
Look like a woman, and embrace it. Maybe you've got some serious curves and maybe you're naturally slim and sleek. The only thing you've got to do is embrace your body. Stop asking him if you look OK or if he thinks you're fat. This can be a hard one to give up, especially if you thrive off praise from the outside world. Ask any guy: healthy self-esteem is infinitely hot.
Any other tips for aspiring guy's girls out there? Share below!