How Halloween Costumes Became Sexy
From Sweet to Sexy: The Halloween Costume Evolution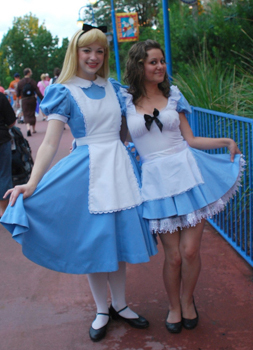 Dressing up for Halloween is nothing new, but it's not that old either. It was brought to North America by the 19th-century wave of Scottish and Irish immigrants, whose children went door to door asking for coins in a practice called "guising."
"Guising" reminds me of "cruising," so it shouldn't surprise you to learn we have gay men to thank for today's sexed-up Halloween. New York City hosted its first Halloween parade in 1973, and with its location in the city's West Village gay district, it quickly went from children in masks to men in drag. Gay neighborhoods in other cities like San Francisco and Los Angeles followed, reveling in the '70s pornographic spirit. It was only a matter of market research before stores started selling sexy costumes.
Yet this doesn't explain how the sexy trend became a women's issue. Straight men, after all, usually do gross, funny, or mock sexy, while one retailer told The New York Times in 2006 that 90 percent of its women's costumes were sexy.
Adie Nelson, PhD, author of the study The Pink Dragon Is Female: Halloween Costumes and Gender Markers, believes it began with costumes for little girls. "Heroic figures for women or considered icons of femininity are very much anchored in the femme fatale imagery," and that includes "Disney heroines, witches, cocktail waitresses, French maids, and an interchangeable variety of beauty queens."
Could it be that we took the already very girly costumes of our youth and sexed them up because we were old enough to? Or is it more meaningful? "I love to imagine that there's some real social message, that it's sort of the female equivalent of doing drag," Dr. Nelson said. "But I don't think it's necessarily so well thought out."
What do you think?
Source: Flickr User PrincessAshley