How to Have a Sexy New Year
How to Have a Sexy New Year's Eve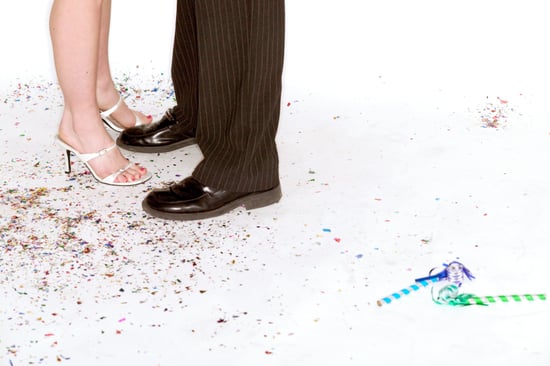 It's a holiday associated with champagne and kisses, so New Year's Eve is bound to bring a bit of festive flirtation to the end of your month. If you are hoping to celebrate with a racy date that steps outside your regular routine – then look no further. We've come up with six easy ideas to help you make the upcoming year a memorable one right from the start.
If you're single . . .
Plan ahead and pick a party hosted by a hotel or club. Before you buy your tickets, do a bit of online research to find out if there are any group deals or special discount codes. Host a cocktail hour beforehand and ask your friends to share their funniest — or friskiest — New Year's memories.
Go for a nostalgic New Year's and get the gang together for a night of naughty games. Enjoy the classics you haven't thought about since middle school, like Spin the Bottle and Truth or Dare, then turn it up a notch with a racy board game such as Loaded Questions: Adult Version.
Pick a random destination and hit the road with your pals. Not only will the spontaneity feel fresh and exhilarating, but you'll also be able to let loose like you're on vacation. Meet new people and make sure to snap pictures of your adventures.
Read more if you're attached.
If you're taken . . .
Slip on your slinkiest dress and surprise him with a late night seating at one of your city's swankiest restaurants. (Don't forget to order dessert.) After dinner, go dancing downtown in the hot high heels you save for special occasions — or head home for a private celebration.
Score a dose of that carefree, invigorating "getaway" feeling with a romantic weekend trip to the city you've been meaning to visit, or even a one-night stay at a local hotel. Pack your bags, let go of those lingering holiday stresses, and kick off the New Year with a steamy stay you'll remember all year.
Still feeling guilty over all those gift purchases? Keep things intimate — and affordable — with a cozy night in. Don't make it your average movie-and-popcorn couch date, though. Instead, spice things up with lacy lingerie, bubbly sips, and a surprise you think he'd love. Raise the risqué bar by putting on a special playlist or inviting him to play a sexy game.
Bottom line: Turn up the holiday heat by trying something new. If you step outside your comfort zone, you'll set the tone for a sexy 2012 and a bolder, better you — not to mention the inevitable excitement sure to surface in your relationships.