How to Help a Friend Through a Breakup
How to Help a Friend Through Her Breakup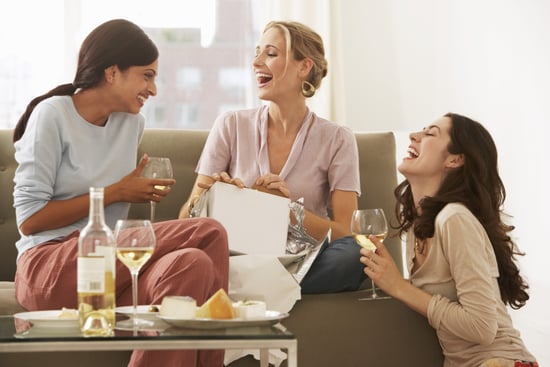 Have a friend with a broken heart? Help her heal by making a few small tweaks to your friendship. You may be tempted to step in and save the day right away, but it's important to let her move on at her own pace. Put your own stresses aside, amp up your positive attitude, and follow these five tips to help your friend through the aftermath of her breakup:
Learn to be a listener. She may just need a sounding board, so be willing to sit back and let her speak if it seems like she needs to vent. Save your advice for later and be careful with your responses — you may agree that he wasn't right for her but avoid saying so for a while because you never know if they'll get back together.
Let her wallow for a while. Even if the "Remember when?" stories become repetitive and you'd rather talk about something else, give your pal some time to work through her feelings. Stock up on ice cream, rent some totally unromantic movies — Shawshank Redemption? — and keep her company as she moves through the just-want-to-veg phase.
But don't let her wallow for too long. After a few days of Kleenex and chocolate, get your pal up and active and out of her living room. If she wants a night out, give her a night out, but don't turn it into Mission: Find Another Guy. Chances are, she's probably not ready, and what seems fun for a while may backfire and send her into an emotional tailspin.
Pick activities that boost her self-esteem. Come up with fun, confidence-boosting things to do in the wake of her breakup. Take her for a long scenic hike, visit cool places in your city, or hit up a relaxing spa. Sign up for a weekly class together — a cooking or painting class, for instance — so that she always has something to look forward to.
Encourage her to move on. When the time feels right, do your friend a huge favor by helping her create an ex-free environment. Whether it's de-friending him on Facebook or sending his old t-shirts to Goodwill, offer to lend a hand so that she doesn't have to do the emotional cleanup by herself.
Bottom line: Be optimistic. Sure, it's important to convey a sense of empathy in the beginning and let her know that her sadness is understandable, but don't let the woe-is-me attitude last for too long. Do what you can to lift her spirits and reboot her self-esteem, and remember to be patient as you wait for things to get back to normal.