How to Increase Libido
Dr. Ian Kerner Answers a Common Reader Question: How Can I Increase My Libido?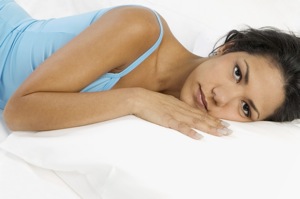 TrèsSugar readers post all types of unique and detailed questions in our community Group Therapy. But we also see some repeat players, including a variation of this reader question: "What can I do to increase my libido? Should I just have sex even when I don't feel like it?" I decided to go to sexologist Dr. Ian Kerner, author of She Comes First: The Thinking Man's Guide to Pleasuring a Woman, for his expert opinion. He says that lack of female sexual arousal could be a physical condition, caused by stress, medication, or a specific disease like diabetes or MS. So it's important to check with your doctor. Beyond a physical issue, a mental block about your relationship could also result in a low libido. If that's the case, here's Dr. Kerner's advice:
Are you happy with your relationship overall, or is the lack of libido a symptom of your attitude toward the situation? Do you find yourself sexually attracted to other men, but then that feeling seems to disappear when it comes to thoughts of intimacy with your partner? Remember that once the lust of a new partner wears off, your sexual connection is tied to much broader feelings of your relationship. If you are unhappy, figure out what it is — has he stopped paying attention to you like he used to? Has he let himself go and gained a few pounds?

Also look to yourself. Are you unhappy with your physical appearance or other factors that are stopping you from connecting with your partner? Consider if these are things you're comfortable discussing with your partner and are willing to work on together. Remember a great relationship is a long road, so you'll hit some bumps, but hopefully you can smooth things out more often than not, and when you feel a strong connection, it generally translates to more satisfaction in bed.
As for whether or not you should have sex when you're not in the mood, Dr. Kerner says there's not a clear yes or no answer. Find out what he has to say after the jump.
It depends on your situation. On the one hand, sex should always be something both partners want and not something that you know will leave you feeling unfulfilled later. But, on the other hand "sex begets sex," which means the more you do it, the more likely you are to want it. You may just need a little boost to get you back in the saddle, but that is for you to decide. Consider if deep down inside you want to have sex, but are having trouble rousing the energy, or if it's a much deeper issue and tied to issues like trust and relationship satisfaction.
Check out what other advice Dr. Kerner has to offer.