How to Live With a Bitch
Flashback: How to Live With a B*tch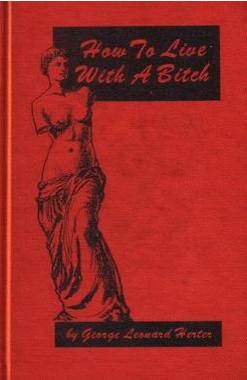 The Plog blog dug up this rare gem of a book — How to Live With a B*tch — in a thrift store.
Author George Leonard Herter started life as the humble heir to a dry-goods store in Minnesota but finished as raging misogynist. When he wasn't calling the pill "racial suicide" and saying men are a fine wine but women a whiskey ("The more they age the worse they get") in his 1969 book, he doled out marriage advice and other chauvinist nonsense. Here goes!
On sex
"At puberty and through the teenagers your strongest desire is to have sexual intercourse with almost any girl who will lay still long enough to let you. You can get a girl pregnant very easily if she wants you to . . . Either use contraceptives or have sexual intercourse with a girl you wouldn't mind marrying."
"Do not establish a nudist camp in your home but keep a natural body exposure around the house on a normal basis. Children, including boys, should see their mother nude wearing external menstrual pads."
On women
"All facts show that many women have built-in traits to nag, b*tch, insult, try to be cruel and try to be demanding. Such traits, of course, cause much divorce. Again a woman is not exactly like a Canadian goose, she does not intend, in the vast majority of cases, to mate for life."
Get more of his wisdom after the jump.
"In the whole history of the world only two women were able to become even fairly well-known painters. Some women can learn to play the piano fairly well. Well-known women cannot compose lasting music. Women are different in more ways than just sex. Women can hold their breath for 2 1/2 minutes and descend and work in water 45 feet deep, men cannot."
"There is nothing in the world so utterly disgusting as the woman who has used every trick in the trade [ed: birth control?] all of her life to keep from having children, then wailing at menopause that she has no children."