How to Make a Thankful Box
What Are You Thankful For?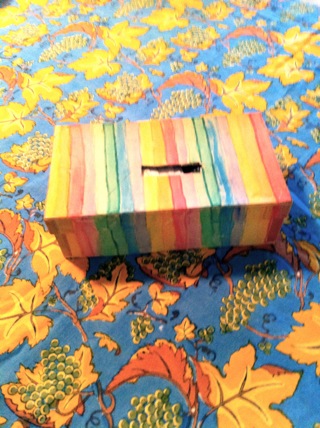 At age nine, my obsession with American Girl Magazine was in full force. In its November issue it proposed making a "thankful box" to pass around the Thanksgiving table while asking each person to write on a piece of paper one thing they're thankful for. So I promptly found a shoe box, painted it rainbow colors, and cut a hole in the top. Since then we pull out the box every year, and each person gets to write as many notes as they want. We then send the box around the table reading each other's pieces of paper aloud (which offers opportunity for comic relief if you think ahead).
But the best part of the thankful box is that we keep the papers from past years inside. So once we're done reading this year's, we go back through as we wish, turning it into a memory box. It's always enjoyable to try to decipher my late grandfather's handwriting to determine what he was thankful for in 1996. In case your family isn't as sentimental as mine, here's your chance to dish: what are you thankful for this year?