How Much Control Should a Bride Have Over Her Bridesmaids?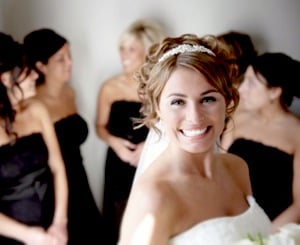 Earlier this week we explored bridal dress traditions from around the world. Now I want to talk about that other wedding dress: the bridesmaid dress!
I had the pleasure of being a bridesmaid twice last year. For one wedding, which was very small, my friend told us to wear our favorite black dress. For the other, the bride chose a specific dress for each of us from a relatively pricey boutique. The bride disliked too much matching, so she chose different dresses for each bridesmaid. Of course, she was still the one choosing, and we were the ones paying. To be fair, she generously pitched in half the cost of the dresses.
The bridesmaid's dress is just the beginning of bridal party micromanaging. I've heard of a bride forbidding her attendants to get spray tans because she didn't want them to look orange in her photos. It's also not rare for a bride to mandate everything from a bridesmaid's earrings, shoes, and hairstyle. And let's forget about looks, what about dates? Should a bride speak up when her bridesmaid's plus-one is someone she cannot stand?
On her big day, does a bride have the right to control anything she wants, from her bridesmaids' tans to their love lives?