How to Stop Fighting in Marriage
One Way to Stop Fighting? Define Roles in Marriage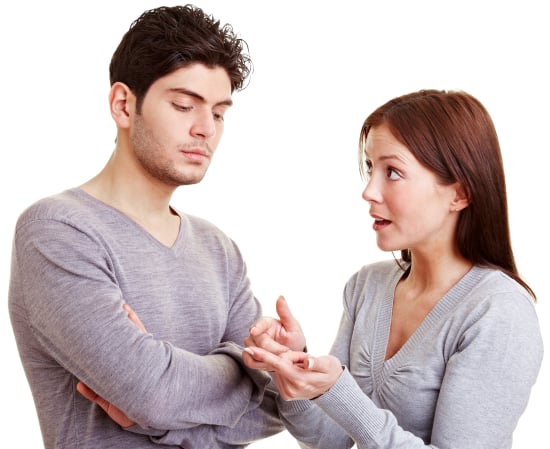 We're happy to present this story from one of our favorite sites, Fox News Magazine. Today, licensed NYC therapist Rachel Sussman gives advice to stop fighting in your relationship.
All couples argue from time to time, and that's perfectly normal. There are many things to bicker about in today's hectic world. Many couples argue about finance, sex, parenting, and work/life balance.
Many couples also argue about roles. Meet Tara and Steven who are clients in my psychotherapy practice. They sought my guidance because they are arguing more than usual and they are afraid of the long-term impact on their relationship from the friction.
Tara and Steven mostly have a solid marriage and the issues they are grappling with are representative of the myriad struggles that couples have. Both have demanding jobs, plus there are three children (ages four through ten) at home requiring care, guidance and love. Additionally there is a marriage that needs tending as well.
In my office, they had an explosive argument about an unpaid bill that left them temporarily without cell service. What they didn't understand was that they're not arguing about the bill, they're arguing about the defined roles they each take on in the marriage.
"Why is it my responsibility to pay all the bills?" asks Steven. "Don't I have enough on my plate these days?"
Tara barks back, "You have always paid the bills, Steven. It's always been your job! Just like taking Michelle to swim team is my job. In fact, you know I hate the swim team mornings!"
Deciding how much time to devote to a career, family, and a spouse is a major issue among couples.
Unfortunately, most couples don't take the time to sit down and discuss the "business of family." Instead, roles are randomly assigned or taken on without much thought. This haphazard set up, which isn't ideal, leaves too much room for error.
Keep reading for Rachel's solution to this common relational issue.
Here's a solution: Sit down with your spouse tonight and visit the topic of defining roles.
I suggest the following meeting agenda:
Make a list of all of the chores that need to be divided up. Then examine each one and ask:
Who is better suited to not only do each one, but do it well?
Who has more time to tackle each project?
Are there any of the chores listed that you or your spouse would actually enjoy doing?
In Tara and Steven's situation — a little bit of creative role shuffling went a very long way. Together we made a list of the tasks that needed to get accomplished. These included homework help, grocery shopping, cooking, clean up, bill paying, social calendar and such. Once the list was made, we examined it and discussed it.
Tara took over the bill paying and that's because she is better suited to handle it. In fact, Tara is actually a CFO at a software company with a background in finance. Turns out she should have been paying the bills all along!
And guess who is now taking Michelle to swim team? Steven is a morning person and has flex hours at his job. He enjoys his early mornings at the pool with his eldest daughter.
As I said, all couples argue. It's not the conflict that sinks a relationship; it's how the disagreement is handled. So sit down today and have that meeting on defining roles in a marriage. You'll be glad you did!
More from Fox News Magazine: