How Will Supreme Court Rule on Gay Marriage?
How Will the Supreme Court Rule on Gay Marriage?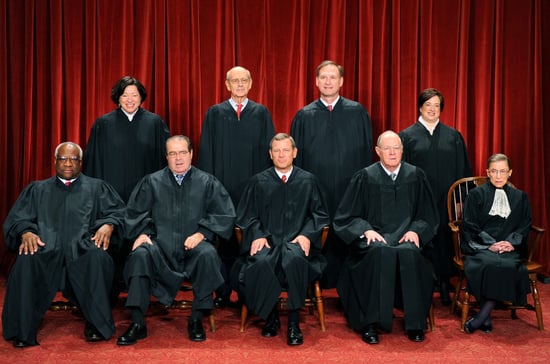 In 1996, President Bill Clinton signed the Defense of Marriage Act into law, and in 2008, California voters passed Proposition 8, banning gay marriage in the state. But 2013 could be the year the bans become history and gay marriage becomes legal across the US. That's up to the Supreme Court, which hears arguments this week on both laws. Oral arguments on Prop. 8 begin Tuesday, while Wednesday is all about DOMA. A decision likely won't come until July, so until then, let's look into what might impact the court's ruling.
First, What's at Stake
If the court declares DOMA unconstitutional, the federal government would have to recognize same-sex couples legally married in different states and grant them benefits like Social Security. As for Prop. 8, if the Supreme Court rules California's ban is unconstitutional, then gay-marriage bans in every state could be overturned, making gay marriage legal across the US.
Various Outcomes Are Possible
While the court might establish a nationwide constitutional right to gay marriage in the Prop. 8 case, it also could rule in a way that limits its decision to California only. For example, the court could rule that the parties in the case lack "standing" to be in front of the Supreme Court, and thus that it does not have jurisdiction to rule. Without granting a constitutional right to same-sex marriage across the country, a narrower ruling could leave intact lower-court decisions, meaning that California would have to grant gay marriage and that Section 3 of DOMA, which mandates the nonrecognition of same-sex marriages for all federal purposes, would be thrown out.
Keep reading to find out which justice could decide the case.
It Could Come Down to Kennedy
While anything is possible, the court's four conservative justices will likely rule against gay-marriage rights, while the four liberals will rule for them. That leaves Justice Anthony Kennedy as the deciding vote. Appointed by President Reagan, Kennedy is far from a self-confessed liberal, but he has ruled in favor of gay rights before. He voted to overturn a Colorado constitutional amendment that prohibited gay-rights laws, declaring the popular referendum unconstitutional, and also wrote the majority opinion for Lawrence v. Texas, which declared antisodomy laws across the country unconstitutional. These two cases were landmark, wide-sweeping decisions for gay rights.
Even so, Kennedy has been a supporter of states' rights as well, and regulating marriage is typically the prerogative of the states. This could cause Kennedy to limit the decision, rather than help the court grant a federal gay-marriage mandate.
The Mood of the People Is Crucial
Made up of only nine justices, the Supreme Court is often reluctant to overturn an act of Congress, like DOMA, or the strong will of the people, manifested in Prop. 8, which passed with 52 percent support of California voters in 2008. If you consider that it took until 1967 for the Supreme Court to rule that interracial-marriage bans violated the US constitution, you'll see that the high court often moves slowly. But there are signs that society is reaching a consensus in favor of gay marriage. A new poll shows that over the last decade, 14 percent of all Americans have changed their minds in favor of gay marriage, and now more Americans support gay marriage than oppose it. Compare that to 2008, when 58 percent of Americans opposed it.
In addition, the nation's leaders have contributed to the momentum. Clinton, who signed DOMA into law, now says he believes it's unconstitutional. President Obama also changed his mind. As for Republicans, Sen. Rob Portman came out recently in support of gay marriage, saying his gay son helped him change his position, and 75 prominent Republicans submitted a brief to the Supreme Court asking it to overturn Prop. 8.
We'll have to wait until the Summer to see if the Supreme Court says "I do" to a simple, constitutional right to marriage or instead decides it's complicated. How do you think they'll decide?