How to Tell Partner You Have HPV
Hump Day: Life After HPV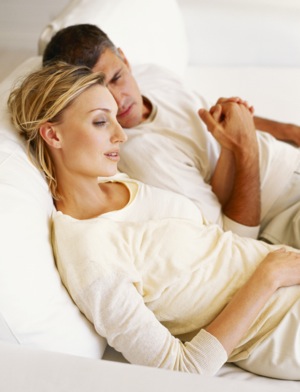 Welcome to Hump Day, TrèsSugar's sex advice column. If you have questions about sex, send them to TrèsSugar, and our friend Dr. Charlie Glickman from Good Vibrations will offer his sound advice!
Today's question:
"I just found out I have HPV. Since it's a pretty common STI, I'm curious if I have to tell everyone and since I probably want to, I'm wondering what's the best way to go about that."
To see Dr. Glickman's answer, keep reading.
Great question! The question of whether to tell partners about sexually transmitted infections (STIs) may seem easy to answer, but it's usually more complex than it first appears.
A lot of people will have a gut response that "of course, you should tell your partners!" And I certainly understand that — if we don't give people the information, there's no way they can make an informed decision about things. At the same time, I also know that many people have such negative reactions to STIs that it can be hard to bring it up. And don't even get me started talking about people who freak about STIs but don't cover their mouths when they sneeze or cough into their hands and then touch stuff.
Probably one of the worst times to tell someone is when you're already well on your way to having sex. When you're already turned on, it can be easy to decide that it's not worth saying anything. Or your partner may decide in the moment that it's ok, but then get worked up over it later. Both of those situations can lead to a lot of drama. And if you interrupt a hot and heavy makeout session (or whatever) and drop a bomb like that, it can sidetrack the whole night. When you're turned on is usually not a good time to make an announcement like that.
Before you even decide that someone is worth telling (i.e. before you decide that you want to have sex with them), you might want to get a little information. Check out Scarleteen.com for some of the best info about safer sex and STIs. If your prospective partner doesn't know much about HPV, they may have a lot of fears or misinformation. The more you know, the easier it'll be for you to respond. You might even find yourself doing a fair amount of sex education, so having some good links bookmarked can help.
You might also want to stock up on condoms and gloves to make safer sex a breeze. Since HPV is transmitted from skin contact, condoms can lower the odds of transmission, although it's still possible. And gloves make things a lot easier since you can just take the glove off and know that there's no contact with body fluids.
Once you have your info and supplies, I suggest telling someone after you've decided that you're interested in having sex with them, but before you get too far along the path. The exact situation will depend on your situation. Maybe it's a third date conversation. Maybe it's after you've had a first kiss. The trick is that you want it to be early enough that you have some confidence that it's relevant, but not so late that you have as much invested in it if they cut and run. Some ways you might tell them are:
"I really like you a lot and I want you to know something before we go any further…"
"I enjoy hanging out with you and I have something that I need to tell you…"
"I think you're really hot and it's important that you know…"
Start off with a statement about liking them and then tell them about having HPV. It'll take some of the edge off of the conversation. I also suggest using the word and to link the two parts of your statement. It makes it a lot easier for someone to hold onto the first part (where you're saying how much you like them) and the second part (where you tell them about your situation). If you have a friend you trust, you could also practice your script. That can help you figure out which words feel most right to you.
Even after all that, if a possible partner ends up freaking out, or leaving, or whatever, remember that it's not about you. It's about their fears, misunderstanding or ignorance. And as frustrating as that might be, it'll be a lot less drama than if they find out after having sex. And no matter what, you're taking responsibility for caring for yourself and your partners, which is really great. Good for you!