Hugh Hefner and Crystal Harris Wedding Details
Have You Said No to Being a Bridesmaid?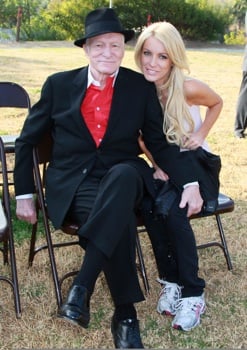 The dress is picked, the location is chosen, and the groom is still a-livin'. All good signs for the marriage of 84-year-old Playboy Hugh Hefner and his unlikely blushing bride, 24-year-old Playmate Crystal Harris.
The Daily Mail interviewed the couple's wedding planner, Kellie Olisky, and I was surprised by some of the elegant choices they made for their June wedding at the Playboy mansion. And then talk turned to bridesmaids and the dresses, and Olisky said it. She really said it.
"One sister is in Idaho. She might need a sleeve."
Unfortunately, or fortunately, most of us aren't privy to these behind-the-scenes conversations because, oh, we don't have them in front of reporters. But, sister Harris, in Idaho, I want you to know it's OK to say no. Here are tips on how to turn down being a bridesmaid gracefully, but sometimes you just need to say it in any shape, at any volume.
Have you turned down a request — gracefully, passive-aggressively, or aggressive-aggressively?