Interview With Cavanaugh Lee Author of Save as Draft
Email From Your Heart and Other Insight From Author of Save as Draft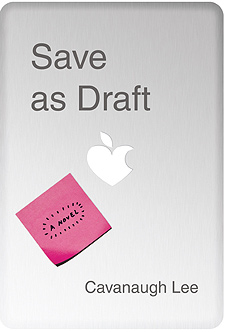 Former actress, full-time attorney, and new author Cavanaugh Lee is definitely a successful overachiever. So when she found herself in a less-than-perfect position after a called-off engagement, she decided to write the autobiographical novel Save as Draft, which came out this month.
The book, written completely in the form of email, gives us a look at the inboxes of all the main characters, as well as their draft folders, so we know what they're really thinking. In an interview, Cavanaugh told me she's learned to not overthink her online communication anymore; instead, she opts to share her true feelings online and off. Here's what else I learned from her:


TrèsSugar: The book is based on your life experiences. How are you like the main character?
Cavanaugh Lee: In the book, Izzy is an attorney at a big law firm in Atlanta, and at the time I wrote it, I was an attorney at a big law firm in Atlanta. She is 31 in the book, which I was when I wrote it. And in the book she endures a broken engagement, as had I. That was actually the impetus for writing the book. The main difference is that a big portion has been fictionalized for literary purposes to make it more humorous and interesting.
TS: How much of the book is based on your own emails?
CL: The emails are made up. Mine are obviously more true to life than others, because I was able to go into my inbox to see what I had written. But the other emails I had to create from my imagination. You don't know what the other characters are going to write, especially for the draft folders.
TS: So have you talked to you ex-fiancé since?
CL: I've heard that he does know about the book, and I hope he reads it. I did portray him in a really good light; he's an amazing person, and this was my thank you and apology to him.
TS: Do you save a lot of drafts yourself, instead of sending emails?
CL: I used to save my drafts. I do not any more. After going through this book, heck no.
TS: Do you think the ability to overthink our communication is changing relationships? Would the story have ended differently if people would have said what they thought at first in the draft?
CL: Absolutely. You nailed the entire book. That's the whole message. I put the drafts in critical places. Had they been sent from the beginning, the main character's lives would have turned out much differently. I don't know if they would have ended up together ultimately, but it would have been a different story along the way.
Read what the author thinks about online dating and find out if her book is getting the movie treatment after the jump!
TS: You couldn't have written this book 25 years ago.
CL: Very true. The majority of modern dating occurs online, and that's because most of us have day jobs and we're really busy; we're independent; we're involved in clubs, outside activities; we have hobbies. When we get home at night, it's often not until 8 or 9 o'clock, and we might have to work on the weekends. So the last thing we really want to do is to go out to a bar, or a restaurant to meet someone, so the quickest thing is to go online. To log on to your computers, kick your heels up, and have a glass of wine. We just don't have the time or the energy to meet someone.
TS: Do you think we're missing something being online all the time?
CL: I think online dating is a good and bad thing. I think meeting people, or constantly communicating with your significant other online is both good and bad, but I really try to get that across. I mean the negatives obviously are that you don't really know what the other person is really thinking. You have to rely 100 percent on what they're typing to you. It can obviously be a vehicle to be dishonest. But on the flip side, I think communicating online before you meet someone can help you weed out people that would be a waste of time. As long as you use different technologies in a positive way, you can be honest and genuine, since a lot of people are shy, and this makes it easier to connect. That being said, you have to go out and sit across the table from each other and have dinner, and see what they look like, and move forward.
TS: So what did writing the book teach you about your own love life?
CL: I'm single, unmarried now. I have a fabulous dog. I go out a lot with my girlfriends, and I do date. I hope that after the book calms down, I can give my love life a little more thought. That will be the sequel!
TS: I've heard that the book might be turned into a sort of updated You've Got Mail movie. Is that true?
CL: Well . . . there is movie interest! Nothing is official though.