Interview With Don Jeanes of Budweiser Super Bowl Ad 2013
Budweiser Ad Cowboy Wrangles Us In With Texan Charm and Tales of Baby Clydesdales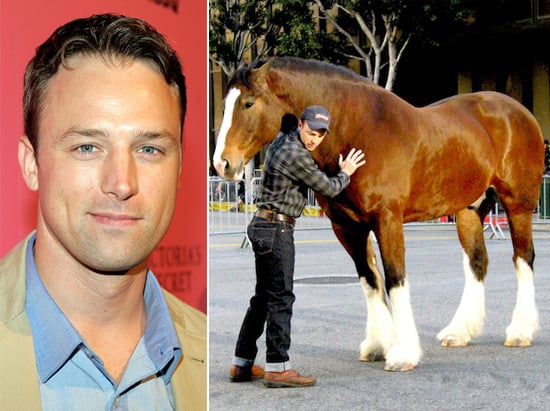 This Valentine's Day, our hearts belong to a certain cowboy made famous by this year's hottest — and most tear-jerking — Super Bowl ad: Budweiser's Clydesdale "Landslide" commercial (cue bawling). The cowboy in question turns out to be dimpled Texan Don Jeanes, who pretty much wrangled us into a pile of goo with his smooth country drawl and "ma'am"s when we spoke with him this week. We asked our readers what they'd like to find out about this crush-worthy cowboy, and he answered all their burning questions — including his relationship status! Check out the interview now, and rewatch the ad below!
POPSUGAR: Have you found more men or women are affected by this ad, or is it equally beloved across genders?
Don Jeanes: I would have to say I have gotten a lot of women's attention from the ad. I have attracted the attention of a lot of horse lovers. Especially women who are horse lovers. That's been pretty eye-opening and very nice.
PS: Why do think men and horses are such a potent force when it comes to attracting women?
DJ: It's the test of time: a man on his horse and that old-fashioned cowboy. With a cowboy and knights, it's the symbol of chivalry. It really does the trick. And a lot of people were telling me it reminded them of War Horse.
PS: Are horses even better wingmen than cute puppies?
DJ: Definitely! Don't get me wrong; I think cute puppies are awesome. But when it comes to having your own horse . . . "Hey, do you want to go for a horse ride?" I think that would win every time.
PS: Have you ever had a strong connection with an animal in your own life?
DJ: Absolutely. We had a bull named Thomas. I was raised on a ranch in Texas, and my dad would put us on top of that bull, and we could ride it around. I remember being pretty hurt when Thomas died. And then there was a horse named Doc. He had a little white star on his nose. My dad was a lifelong cattle rancher, and that was his horse. It's something about that, a horse that knows everything. When you go to open up the fence, it'll stand beside it, and right when you get your hand on the latch, it will walk away. It's pretty amazing. We did have a schnauzer when I was a little kid, and that schnauzer passed away too early. And that was a hard time in my life. I felt like the Bridge to Tarabithia.
PS: Is Budweiser making a sequel?
DJ: You know, I haven't heard anything about a sequel. I can say that those are some of the nicest people I've ever met in my life. If they wanted me to do another one, I am absolutely up for it. But I haven't heard anything about another one in the works.
PS: Do you plan on capitalizing on the popularity of this ad for your career? What's next?
Don: Yes, ma'am, I am capitalizing as we speak. I'm on set tonight for a commercial, and then at the end of the month I go to Uruguay for another commercial.
PS: Are you a real cowboy?
DJ: I would like to consider myself a real cowboy. I spent most of my life on a cattle ranch, and actually I spent a lot of time in the dance hall. I can two-step a little better than you can think. Also, I had a bucking barrel in my backyard growing up, and that led to bull-riding for about three or four months. Pat Green is a country western singer from Texas, and he said he had a bull-riding career that lasted about 15 seconds on three bulls, and my joke is that mine probably lasted about 20 seconds on five. I can still rope, and I come from a long line of cowboys. My grandfather is still a cattle rancher in Texas. It's rodeo family.
PS: Why are baby Clydesdales so cute?
DJ: I don't know, but they are! Can I tell you something that was kinda crazy? When I was handling the baby Clydesdale in the stall, he was damp. And that's because they get so hot. You think that they're cold out there, but their fur is so thick that if they're indoors — anywhere kind of hot, they sweat. It was the cutest thing in the world.
PS: What's your favorite breed of horse?
DJ: There's the cowboy in me; I like a quarter horse. If I had to pick for beauty, well, I'll say right now that at the top it's between a Clydesdale and an Appaloosa, with all those nice specks on their rear end. They're beautiful horses as well.
PS: How many horses did you work with during the shoot?
DJ: We had three around-2-year-old aged horses, and then we had two older horses. Bill was the star that you saw running down the street. He's a commercial horse; that's all he does. Budweiser keeps him, he goes and shoots commercials, and goes back to the ranch. That baby fowl was only 8 weeks old.
PS: Do you have any tales of bonding the horses?
DJ: I got to spend a whole day rehearsing with all the horses. I think there was just one time, I could have sworn Bill was like, "Hey, bud, what's up." [laughing] Because man has lived with horses for so long, once you get around them enough you start to respect each other. They learn so quick, they're a lot smarter than we give them credit for. They're intelligence level is so high, and it's just amazing to see these horses thinking.
PS: Who spent longer in hair and makeup: you or the horse?
DJ: [laughing] I don't know! They had him ready when I got to the set. I was wearing a cap most of the time, so they were just like, "Get out here, Don!"
PS: Are you single?
DJ: Yes, I am.
PS: What is it about girls that confuses you the most?
DJ: That's a long list. I don't know . . . everything? [laughing] I really couldn't tell you. Man, I'm still trying to figure it out.
PS: Would you try out for The Bachelor?
DJ: You know what? I'd be honored if they let me, but I'm trying to stick with pure acting right now.
PS: What are your Valentine's Day plans?
DJ: As awful as it sounds, I will be shooting Valentine's Day. I will be on set for a Kia commercial.
PS: Describe your ideal date.
DJ: One time I had a first date on the Fourth of July. We had lunch, went to a museum, then the aquarium, and ended up in a park at a marina where we watched the fireworks. That was a pretty ideal date.
Grab a box of tissues, and watch the ad below!