Interview With Ewan McGregor and Mike Mills About Beginners
Ewan McGregor and Mike Mills Tell Us the Lessons They Learned Filming Beginners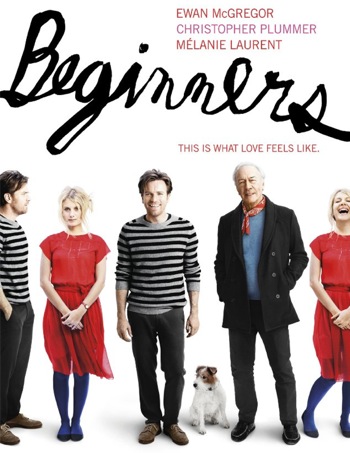 In the movie Beginners, out last Friday in limited release, we meet Oliver, played by Ewan McGregor, after the death of his mother and then again after the death of his father. His mother's passing prompts his 70-something father Hal (Christopher Plummer) to come out as a homosexual man determined to dive into LA's gay culture and experience everything he missed while in the closet. Soon Hal finds out he has terminal cancer, but he's set on continuing his new life like he never got the diagnosis. The movie follows in parallel Hal's final years, as well as his son Oliver's life after Hal dies. Once the father he was just getting to know is gone, Oliver is shrouded in a cloud of grief. He meets Anna (Melanie Laurent), a French actress, and we see him struggle to let himself fall in love.
I recently had the chance to interview Ewan McGregor and Mike Mills, the movie's writer and director. Beginners is based on Mike's experience with his own father, who came out of the closet after his mother passed away. Here's what they told me they learned while making a film about love, loss, and the promise of new beginnings.
Humor can help you break free from difficult circumstances. Mike describes what he learned through his parents' subversive sense of humor: "I think in my family humor has been used as a way to get out of different boxes. The box of being in a hospital, the box of being in a sad situation. It's a way to dismantle the rules that are holding you down."
It's liberating to speak a different language. "For Melanie [Laurent] acting in English for the first time," Ewan recalls, "she said she felt this incredible sense of freedom because she wasn't acting in French. She was like a live wire, all over the room. You never knew what she was going to do next."
You can still learn from and connect to your late family members. Mike said that his mother knew his dad was gay and was "a super complicated Humphrey Bogart of a woman." He says making the movie helped him unpack the complexities of both of his parents: "I really enjoyed writing from their perspectives. Sometimes when I watch the movie, I kind of feel my dad. I don't think Christopher is my dad, but I kind of feel my dad or like I'm talking to my dad about what Christopher's doing. And I cherish that."
Sexuality is only one part of what makes each person who they are. Ewan, who has appeared in various movies dealing with gay themes, explained, "I think there's a mistake that's made when you're playing a homosexual character that you're playing a gay character. No, you're playing a character. That's it. You're playing a character who likes to sleep with men. They're whole human beings. So sexuality would be a part of that."
Anyone can surprise you. Ewan says Christopher Plumber "became a skinny jean connoisseur. He looked all right in them."