Interview With Royal Expert Jerramy Fine
Our Facebook Fans Interview Royal Expert Jerramy Fine!
Today we hosted a live chat with royal expert Jerramy Fine, author of Someday My Prince Will Come and founder of Princess Prep in London. She's rubbed shoulders with Princess Anne, Earl Spencer, and the Duchess of York, and shared her valuable knowledge with us. Read our reader questions about the royal wedding and Jerramy's insightful answers below!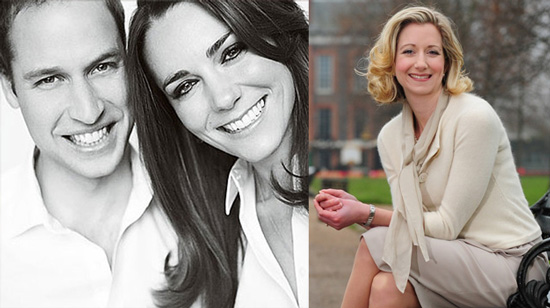 Gi Jane: How do you think Kate will handle her new life? I am sure with the few years she's been with William she would do quite well.
Jerramy Fine: Royal life isn't for everyone, but I think it IS for Kate. She has been pitch perfect so far and I'll be very surprised if she makes any mistakes any time soon.
Libby: How many of Kate's commonor friends are invited to the wedding? I imagine the list had to be approved?
JF: All of Kate and William's friends are a very close knit group and have been in their inner circle for nearly eight years. The cool thing is that Kate invited a lot of the locals from her home town — the mailman, etc!
Lauren: I was wondering how much influence does the queen have over the day? Does she OK the dress? OK the food? I am sure she will OK the guest list!
JF: Although the queen (and hopefully Kate and William probably have some input) I'm fairly certain that every last detail is being seen to by the Lord Chamberlain and Master of the Household in accordance with royal tradition. However, I heard they are actually having buffet during the evening party rather than a sit down dinner and that the queen is not best pleased about lining up for her food!
Mary: I was just reading that all of Kate's bridesmaids besides her sister are really young — age 8 and under, I think. Is that common/part of tradition for a royal wedding?
JF: Yes! The Brits think it's really weird that Americans have grown-up bridesmaids! The tradition is one maid of honor and as many children as you can handle! It's starting to change though — Autumn Phillips had three grown-up bridesmaids — maybe Zara will, too.
Judy: Any rumors about the dress? Get the answer when you keep reading.
JF: SO MANY rumors! My hairdresser at Richard Ward (where Kate goes) says Alexander McQueen (though this seems FAR too edgy for classic Kate); a high-profile wedding planner I know says her sources say Bruce Oldfield (though that may be too reminiscent of Diana). Personally, I'm holding out for Phillipa Lepley — I was a bride in London only 18 months ago — I've seen all the dresses in this town and I think Phillipa matches Kate's style perfectly.
Emily: Who is footing the wedding and honeymoon bill?
JF: The queen is paying £30 million (approx $50 million) toward the wedding — the Middletons are paying "six figures" (which will cover the dress, the honeymoon and a bit more). Prince Charles is footing the bill for the evening party.
Lauren: The train, will it be as long as Diana's?
JF: Westminster Abbey is so grand — it demands a train! I'm sure it will be long (though probably not 25 feet like Diana's!).
Remi: Do guys in the UK care about the wedding?
JF: Most guys in the UK do not care about the wedding. It really is girly-girl stuff after all. That said, I'm making my husband wear his tailcoat tomorrow morning at my viewing party!
Lauren: What will you be serving at your Royal Viewing Party?
JF: I'm serving mimosas, croissants and then a full afternoon tea with scones, etc. Everyone must wear what they would wear to the abbey if they were invited.
Kyle: Is there any indication that the queen will retire to let Charles be king? She was coronated at 26 years old, it seems about time that she let her son step in.
JF: I seriously doubt the Queen will retire unless Prince Philip dies. Queens are not really supposed to "retire" anyway — it requires an entire act of parliament (and for all commonwealth countries to vote) for the throne to pass without her death.
TrèsSugar: I'm curious: what title will Catherine use after the wedding?
JF: Kate's official title will be Princess William of Wales! We will find out tomorrow what other title the Queen will bestow her with. It's probably going to be Duchess of Cambridge or Albany.