Interview With Trista and Ryan Sutter About K-Y Intimacy Experiment
Trista and Ryan Dish on Marriage, Reality-TV Regrets, and the Current Bachelor!
As a Bachelor fan who looks forward to the ridiculous drama every Monday night, I've always found it impressive that alumni Trista and Ryan Sutter have maintained a healthy relationship. Then I found out that the pair, who have been married for seven years (an eternity in reality-TV relationships), work hard on their marriage. Putting bashfulness aside, the couple signed up for The K-Y Brand Intimacy Experiment, a 10-day relationship boot camp meant to help couples reignite the spark both inside and outside the bedroom. Some of the challenges are less risqué than you'd think. For example, couples are encouraged to turn their bedroom into a "love nest" by removing clutter or anything else that can cause stress or distraction.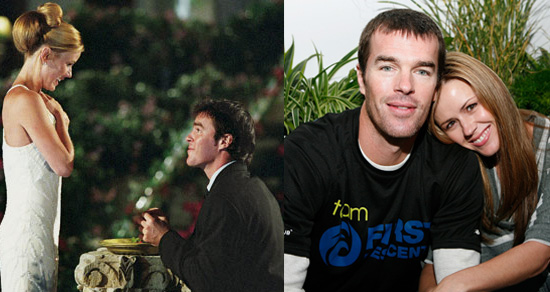 I chatted with Trista and Ryan about the experiment and much more — including their thoughts on this season's Bachelor Brad and villain Michelle. Keep reading for their thoughts!
TrèsSugar: Why did you get involved in the Intimacy Experiment?
Trista: We wanted to help spread the word that it's not a bad thing to work on your relationship. We thought it was a good way to reconnect in our marriage and refocus our priorities.
TS: Is it paying off?
Ryan: The biggest help has been being conscious about what your bedroom looks like, or how you can help to convey a more positive message through your interactions with your partner. Day-to-day stuff like more hugging, or more compliments, or spending time together in the kitchen cooking. Things that are not directly sexual encounters, but they lead to better opportunities later. As a guy you don't realize what you can do to help stimulate a healthy relationship or what detracts from a healthy relationship.
TS: So, are you guys still watching the show?
Trista: I am!
TS: Who do you think Brad will choose?
Trista: I think Chantal and Emily are up there. I don't know that Emily is ready quite yet; I think there's a lot of pain still there, and rightly so. I think he and Chantal have great chemistry.
TS: What do you make of crazy Michelle. Is it editing?
Trista: I've always subscribed to the fact that they cannot make you say something. They can't put words in your mouth. I think it's a little bit of both, but more skewed toward her actions. Yes, they're playing psycho music when she's on, which I think is hysterical. But she did say on her 30th birthday, "It's my birthday!" "It's my birthday!" "It's my birthday!" "It's my birthday!" "It's my birthday!" "It's my birthday!" — and you're like seriously, we know it's your birthday! Yes, it's editing, and it made a lot of people aggravated because they used her thing so many times. But if you're on a show, don't say something if you don't want it to be used.
TS: Here's a reader question. What do you regret from your season of The Bachelorette? Get the answer after the jump!
Trista: Ryan's like: "Doing it. Period." [Laughs] One of my big regrets is not telling Ryan that I was in love with him when I was in love with him. When I was on The Bachelor, Alex told me before the final rose ceremony that he was going to choose me, and he didn't, and I was heartbroken. I didn't want to do that to anyone. So I just kept it to myself, and I think he struggled with the experience because of it.
Ryan: I always wondered if I would have said, "You know what I'm not going to take the rose. Here's my number so call me if you really want to be together." It's not a regret, but I always wondered what would happen if I didn't go with the program.