Jane Krakowski Interview
Jane Krakowski Says Jenna Would Play Anastasia in Fifty Shades of Grey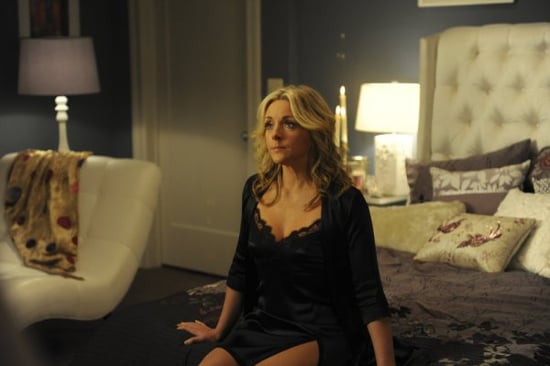 30 Rock's season finale aired last week, and it's official that the next season will be its last. We caught up with Jane Krakowski, who plays Jenna Maroney, the narcissistic actress engaged to her male impersonator. In addition to her work on 30 Rock, Jane's using her comedic talent for Best Night Ever, an upcoming vignette series for NBC. She'll star alongside Andy Cohen and Giuliana Rancic. We had a chance to talk to Jane, and she reflected on what she's learned from 30 Rock and even took a guess at what Jenna would make of the Fifty Shades of Grey phenomenon. Read on.
TrèsSugar: The S&M erotic novel Fifty Shades of Grey is a bestseller and being made into a movie. Do you think Jenna would find it tame?
Jane Krakowski: I'm sure Jenna is buying the rights already to play the role. Everybody's reading that book. I haven't read it yet, but I see it in everyone's hands.
TS: Have you learned anything from your 30 Rock character over the years?
JK: I think my big lesson is to probably not do anything that Jenna does. So whatever she does, do the opposite. You might be better off. But that's the fun part about playing someone like her. You can be as outrageous as possible and get away with it within our structure that is TGS and 30 Rock, so there are so many things that the character has done over the seasons where I'm like, "Really? Are you sure we're going to be able to do this and get away with this?" And in that world and the blanket that is Tina Fey's genius it always seems to be alright. I will trust her wherever she sends me.
TS: Who is your favorite couple on the show?
JK: Well of course I'm thrilled Jenna has taken one step toward being humane by getting engaged. Although, Paul being a wonderful man it's (still) the most narcissistic wedding that could possibly happen, because she's marrying a male impersonator of her. I've always enjoyed Liz Lemon's relationships. I loved when Michael Sheen was on the show. I really adored him. I think her current relationship with the character of Criss is really a great one.
TS: In your latest role in NBC's TV vignettes series titled Best Night Ever, you play a tarot card reader. What would you hope the cards hold for Jenna?
JK: Wow. I sort of wish the tarot card reader would tell me that 30 Rock is not ending after 13 episodes next season. We found out that it's official that we're only going to be doing 13 more. It's been the greatest experience.
You can watch our interview with Jane below and also find out why she's excited about her new role in Best Night Ever.