Japanese Love Hotel Room Themes
10 Room Themes in Japanese Love Hotels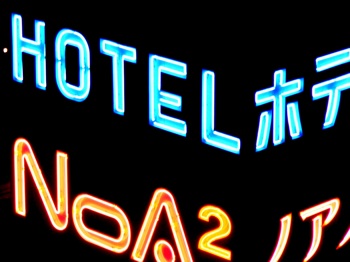 Between high rents in Japan and a cultural disposition toward living with parents, hourly rate hotels are not for the broke and sleazy. Instead they entice working locals, particularly young couples, while bewildering the rest of the world.
The love business got extra crazy this Summer when a resort town outside Tokyo targeted young men and their virtual girlfriends. But long before romance went virtually outrageous, love hotels were tangibly weird. Here are 10 actual themes in Japanese love hotels.
Hello Kitty S&M

Manga
Pirates
Space Odyssey
Gynecologist's office
Jungle
Titanic
Classroom
Under the sea
Office supply room
The one thing that continues to boggle my, and everyone else's, mind is the merging of cute innocence with sex. The author of a photo essay on love hotels says the Hello Kitty S&M room would "appeal to a girl's [interest in] cuteness, and the S&M part of the room [appeals] to a man's more sexual interests." If that's true, then it's awfully sexist. Maybe it appeals to the man's interest in cuteness!


Source: Flickr User St Steve