Jennifer Weiner's New Book The Next Best Thing
Jennifer Weiner on Chick Lit and The Next Best Thing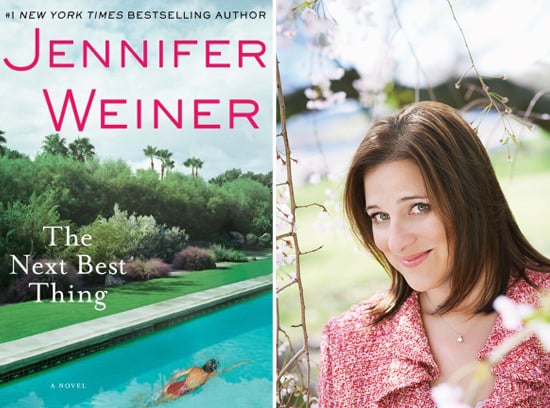 Jennifer Weiner has had multiple dream jobs, and there's no sign she's waking up anytime soon. She's an author with multiple best sellers, had her book In Her Shoes turned into a movie starring Cameron Diaz and Shirley MacLaine, and created and ran a TV series, State of Georgia, on ABC Family. And in her free time, she shares her thoughts on women and publishing and live tweets The Bachelorette. For her latest novel, The Next Best Thing, about a twentysomething woman who moves to LA to try to make it in TV writing, Jennifer draws on her experience as a television showrunner.
Jennifer tells me that the story will appeal to "anyone who watches TV, anybody who's been in love with a show or wondered about an actor, been on Twitter, followed showrunners," or wondered "how does it all come together?" She says, "I had the experience of writing a pilot and casting a show and shooting a pilot. Having lived through all of that, I had stories to tell, and I thought, 'This is going to be a great novel.'"
If The Next Best Thing, out July 3, finds the success of Jennifer's past work, she'll best most other books out this Summer. Nine of Jennifer's books are best sellers, and her Best Friends Forever made it to No. 1 on the New York Times best seller list. Jennifer, a Princeton grad and mother of two, says fans tell her, "You write what I think, but would never say out loud." In addition to not having a filter, Jennifer credits the relatability of her characters for her success. She says, "People see themselves in my books. They see their moms, their dogs, their best friends."
As a commercially successful author of books popular with women, Jennifer's titles undoubtedly get shelved in the chick lit section. Jennifer has been outspoken in the past about the gender double standard in the literary world, lamenting that when a man writes about family and relationships it's considered literature, but when a woman does the same, it's taken less seriously by critics. Still, she doesn't let the labels bother her too much. "People are going to call my books chick lit, no matter what I do," Jennifer admits. "I can spend time being upset about it, or not, and I try not to mostly. I just wish books can be books because when you start labeling things, you start excluding people."
Chick lit or not, Jennifer Weiner's writing is generally considered both entertaining and well-written. Explaining what she shoots for, she says, "I want to love the characters or love to hate the characters. I want to be engaged with them and I want to care about them. Whether they're driving me crazy or I'm loving everything they do, I want the story to move along."
She also knows the writing she doesn't like. Keep reading to find out what that is.
Jennifer says, "I get distracted by bad writing, but I also get distracted by sentences that you just know the author wrote it and then just sat back and thought, 'Wow, look at me with my metaphors, look at me with my big words, and look at me with my onomatopoeia.'" So what does she make of the popular Twilight fan fiction turned best-selling erotica, Fifty Shades of Grey? "There are magical books where everything just aligns, where for whatever reason, there's a combination of cover, title, subject matter, just hitting the sweet spot." The sex aspect, more than the writing quality, is a big draw she says, but that's not all. "Given the economy, reading about a billionaire who can buy you anything, there's something very seductive and escapist about that. Sure, I would want to read about a guy who can take me to dinner in his helicopter and buy me name brand this and name brand that."
There are some better-crafted books, however, on her Summer reading list this year. "I love Sarah Pekkanen. Her new book is called These Girls, and it's set in the magazine world of New York City." Jennifer says that while it's a classic chick lit setup, the book has "really good writing and really relatable characters." And when she's not reading, the self-confessed Bachelor/Bachelorette fanatic will be watching Emily Maynard hand out her roses. Of this latest season, Jennifer tells me, "I'm still at the point of the season where I'm having a little trouble telling the guys apart. But, I like Jef with one f."
If you want to read Jennifer's latest book, preorder The Next Best Thing now.