Jennifer Westfeldt Friends With Kids Interview
Jennifer Westfeldt on Relationship Inspiration For Friends With Kids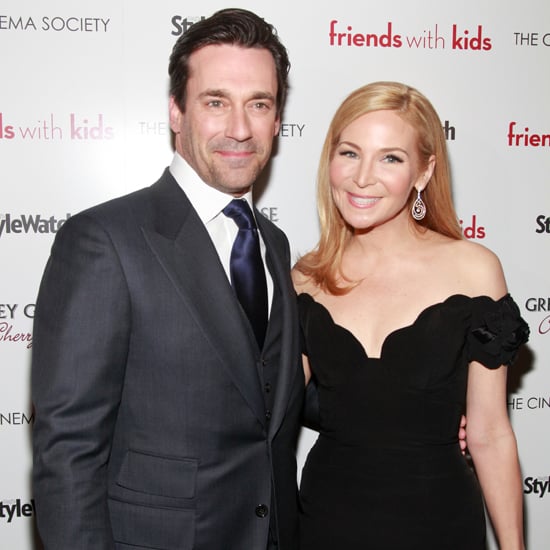 The writer, director, and star of romantic comedy Friends With Kids, Jennifer Westfeldt, recently shared with us her relationship inspiration for the film (which also stars her real-life partner, Jon Hamm) and her advice for balancing family life with a romantic relationship. The movie centers on two friends, played by Adam Scott and Jennifer, who decide to have a baby together without being in a relationship. But it also features several couples in various stages of life dealing with family, sex, and relationship struggles many of us can relate with. Here's what Jennifer told us about her inspiration:
The couple dynamics in the movie and relationship dialogue come off as very real. Did you draw from you own life?
Jennifer: I think that certainly the film represents a lot of what I've observed. I mean so many people in my life at this point have made that profound life change and transition to becoming parents. And I think everybody handles it a little differently, everybody sort of just changes differently. It was really a tapestry of all of those things that I've observed, and then I just added make believe to it. And certainly none of the people are really based on real people we really know. It's more about observing trends and then putting those trends into various imagined characters.
Do you have advice for couples who are trying to balance family life with kids with keeping their romantic relationship strong?
Jennifer: I don't have kids yet, so I can't know what that really unbelievable change feels like. But certain friends report that they always have a date night, that they always make time for each other. And I think that that's important. It's such a game-changing situation to have a child. Especially in that first year, I feel that's when they're really not sleeping and really not ready for life to be just incredibly different. But we do have friends who just make it a point, no matter what, every Saturday night, even if it's an hour and a half to get a babysitter.
And watch the full Jennifer Westfeldt interview on BuzzSugar!