Joe Biden and Paul Ryan on Abortion
Joe Biden and Paul Ryan Outline Differences on Abortion in VP Debate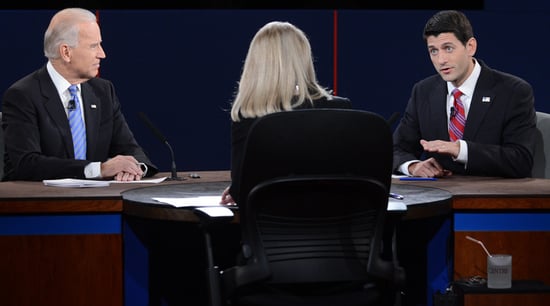 "I do not believe that we have a right to tell other people, women, that they can't control their body. It's a decision between them and their doctor," Vice President Joe Biden said tonight when debate moderator Martha Raddatz asked both vice presidential candidates how their Catholic faith informs their positions on abortion. Biden explained that he has been a practicing Catholic his whole life and that he accepts his church's teaching that life begins at conception, but that he would never impose his belief on the country. The vice president also made the case that Roe v. Wade and thus abortion rights would be in jeopardy if a Romney/Ryan ticket were elected and subsequently appointed conservative Supreme Court justices.
Congressman Paul Ryan for his part made it clear that he is squarely pro-life and would support banning abortion with few exceptions. "It's not simply because of my Catholic faith," he said, "it's also because of reason and science." And it's also personal. Ryan explained that when his wife, Janna, got pregnant, they noticed on the ultrasound that the baby looked like a bean. He said: "We saw that heartbeat. A little baby was in the shape of a bean. And to this day, we have nicknamed our firstborn child Liza 'Bean.' Now I believe that life begins at conception."
When Biden noted Ryan has opposed abortion in all instances, Ryan said: "If you believe that life begins at conception, that, therefore, doesn't change the definition of life." Yet Ryan conceded he would have to support Mitt Romney's policy of making an exception in the case of rape, incest, and when the life of the mother is a risk. When it came to Roe v. Wade, Ryan implied that he would favor overturning it, saying: "We don't think that unelected judges should make this decision; that people through their elected representatives in reaching a consensus in society through the democratic process should make this determination." Presumably he favors state legislatures or congress having the ability to pass abortion restrictions.
Considering the president has the power to appoint justices who could put Roe v. Wade and the right to abortion in the balance, moderator Martha Raddatz did women a service by asking the question. What did you make of the candidates' responses? And you can watch the clip of the abortion question when you read more.