Joe Torre Talks About Family Violence
Family Violence: Not Just a Women's Issue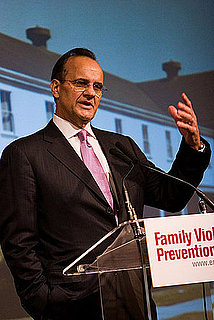 Women might be the most obvious victims of domestic violence, but last week at the groundbreaking of the Family Violence Prevention Fund's international center in San Francisco, I was reminded that violence in the home can influence the lives of men and women alike.
The event featured impressive guests like Speaker Nancy Pelosi and UN Goodwill Ambassador Nicole Kidman, but the words of accomplished baseball manager Joe Torre unexpectedly had the most impact on me. Sharing his personal experience with domestic violence — his father abused his mother — Joe opened up about his motivation for starting his own foundation against family violence called Safe at Home. Noting that the issue of family violence is sometimes dismissed as a "women's issue," Joe said: "When men talk about it people's ears perk up."
Joe, who kept his experience to himself most of his life, now operates safe places in schools for young students to go and talk to each other or to trained professionals about problems at home. They're called "Margaret's Place" after his mother Margaret. Joe said that besides baseball, his mission to help children — boys and girls — work through negative experiences at home has defined his life. Do you think society would pay more attention to family violence if more men spoke up?