John Edwards's Daughter Cate Leaves Courtroom
John Edwards's Trial Is Just Sad, Especially For His Daughter Cate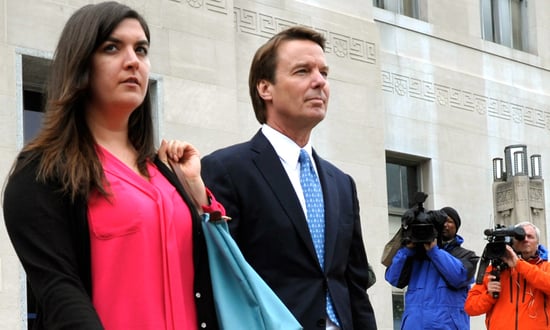 You can't go on trial for cheating on your wife, but if it involves campaign finance abuse, you might face 30 years in prison. Former presidential candidate John Edwards is looking at 30 years behind bars and $1.5 million in fines for allegedly using unclaimed campaign funds to hide his mistress. During an emotional portion of the trial yesterday, about his late wife Elizabeth, his daughter Cate, 30, left the courtroom in tears.
Christina Reynolds, a confidant and aide to the late Elizabeth Edwards, described a confrontation Elizabeth had with her cheating husband in 2007. Elizabeth, who died in 2010 after a battle of breast cancer, confronted her husband at a private airport hanger after the National Enquirer published a story about the affair. Elizabeth had already known about the affair, but became upset by the story. After yelling at John in front of aides, she stormed off and collapsed on the pavement. Reynolds helped her into the bathroom, but then Elizabeth went back out to find John, tore off her shirt and bra, and yelled "You don't see my anymore," shirtless, in front of the staff. According to Reynolds, John told Elizabeth "not in front of our friends," and she responded, "They're not our friends, They're our staff."
Elizabeth was first diagnosed with breast cancer in 2004, which went into remission only to return, terminally, in 2007, the year this episode takes place. In August 2008 John admitted having an affair with Rielle Hunter, his campaign videographer, but denied rumors that he fathered her child. Elizabeth stood by his side until 2010, when John confirmed he was, in fact, the baby's father. Elizabeth passed away in 2010. Despite her parents' very public marital troubles, daughter Cate married in Oct. 2011, and her father walked her down the aisle. She's now at his side at the criminal trial.
All the painful personal details brought out at the trial are meant to help jurors decide if Edwards failed to report $1 million from friends and old donors in order to fund his mistress's lifestyle. Whatever the outcome, I don't think anyone will feel like a winner.