John Mayer's Racist Remarks
Celebrity vs. Artist: Where Did John Mayer Go Wrong?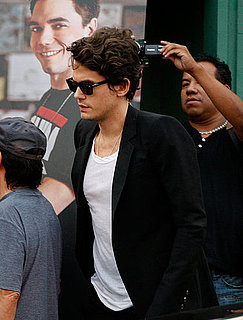 John Mayer broke onto the scene as the real deal. He could rock the guitar, write his own songs, and took his indie-rock career to the big time by harnessing the power of the Internet. After years of boy bands, he was change the mainstream music scene could believe in. We welcomed him.
But sometime between when he hit our radars in 2002 and now — I'm going to say around 2006 when he tried his mic at stand-up comedy and made his first (documented) racist joke — he became more interested in shocking his way into our minds than strumming his way into our hearts. Four years and countless oversharey blog posts and tweets, increasingly bizarre interviews, and revolving-door romances later, he's become better known for his antics than his art.
After the Internet blew up yesterday in response to his racist comments in a Playboy interview, he apologized last night at a Nashville concert, and said he's quitting the media. "I should have just given that up and played the guitar," he said onstage. "I decided I would try to be as clever as possible all the time, and I did that at the expense of people that I love and that feels absolutely terrible. . . . It's just not worth being clever. I quit the media game. I'm out. I'm done. I just want to play my guitar."
Yes, John! Just play your guitar. Maybe it's harder to see when you're caught in the storm instead of watching it on the Internet, but that's what I've been thinking all along. I can understand reality stars relishing every second — and dollar — of their 15 minutes, but why do people with real talent mix fame with art?