Johnny Depp Calls Brad Pitt Angelina's Husband 2010-11-30 12:00:13
Would You Choose Life Partnership Over Marriage?
It's easy for couples like Angelina Jolie and Brad Pitt or Johnny Depp and Vanessa Paradis to dodge the Hollywood divorce curse, because they're not even married! But despite their lack of legal status, life partners sometimes live and act like married couples so much so that even Johnny Depp forgets they're not married sometimes. In a new interview with Vanity Fair he said of Angelina, "Poor thing, dogged by paparazzi, her and her husband." His use of a marital title is probably just a slip of the tongue and not a hint that Brad and Angie are secretly married (although that would be a fun twist!).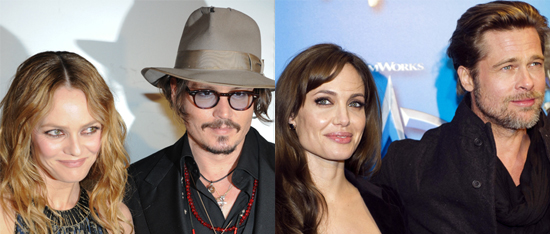 When you're already dad and mom, maybe you don't need to be husband and wife. Children often guarantee a lifelong relationship and legal obligations to each other. And even if you don't have children, why do you need a piece of paper to prove your love? Well, obviously, the piece of paper means something, since many gay couples feel strongly about their right to the legal, financial, emotional, and societal privileges given married couples. And there's evidence that marriage makes you richer and healthier, although I'd bet living like a family could provide similar benefits.
Considering all this, do you think you'd be happier being life partners?