Joining a Sorority Could Bring a Rush of Bad Body Image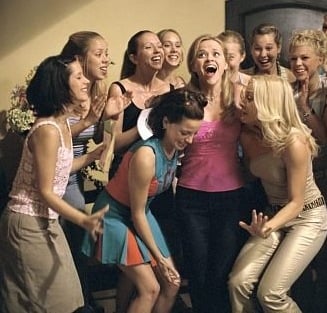 We know some sorority girls have harsh words for those who break strict dress code guidelines, but apparently going Greek might impact more than a woman's sartorial self-esteem.
A recent survey found that women who go through rush are more likely to have a negative body image than non-sorority women. Specifically, they're more likely to judge their bodies from an outsider's perspective, engage in disordered eating, and experience body shame. And the survey also found that body shame got worse for new pledges a month into joining. I would love to see the results five or 10 years down the road; would former sorority sisters still experience poorer body image than their nonaffiliated counterparts?
For more on the influence of sororities,
.
The authors admitted that "sororities are very powerful at influencing the norms and ideals of their members" and that "a move away from a focus on appearance" would be helpful. Looking at one example, the Pi Beta Phi rush handbook — which bans muffin tops along with satin unless "you weigh less than 130 pounds, [and] have three pairs of spanks on" — it seems some sororities have a long way to go. Still I wonder if we can really identify Greek systems as the cause. Young women looking for outside approval might be more likely to join a sorority — and they also might be more likely to judge their bodies from an outsider's perspective.
If you were in a sorority, do you recognize the survey results in your own experience, or did you find your sisters no more prone to bad body image than any other woman?