Jon Hamm and Kristen Wiig in Friends With Kids
3 Real-Life Relationship Moments From Friends With Kids Trailer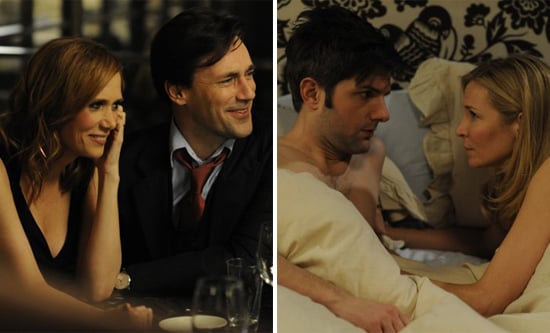 Forget friends with benefits, it looks like this year it'll be all about Friends With Kids! Four star players of the Bridesmaids dream team — Jon Hamm, Kristen Wiig, Maya Rudolph, and Chris O'Dowd — star in this new comedy about a couple of friends who decide to have a baby together, minus that whole relationship part. Writers and directors of the film, Adam Scott and Jennifer Westfeldt (Jon's real-life love) will play the noncouple, Jason and Julie, and they are just one of the funny twosomes we can't wait to see on the big screen!
Each pairing in the movie appears to be in different stages of their relationship, and in the trailer we've already got a peek at the real-life couple moments we're sure to see more of in the flick. Here are some of the interactions that we can relate to:
Leslie and Alex (played by Maya and Chris) have clearly been together for a long time. And when Alex jokes that "older woman" Leslie isn't as hot in her 30s as she was in her 20s, she playfully attacks him saying, "I'm going to strangle you!" — This is like my go-to phrase in pretend fights with my SO!
When Jason and Julie break the baby news to Leslie and Alex (before the nonrelationship part), Leslie says, "We always wanted you guys to get together!" — It seems like couples trying to set up their friends is a common occurrence. Unfortunately, it usually fails.
Sexy couple Missy and Ben (played by Kristen and Jon) whisper to each other that they think the FWK idea is bad before Missy exclaims, "So exciting!" — If there's anyone you'll be brutally honest with, it's your partner. Sometimes it's just better to support your friends, even if you disagree with their decisions.