Jon Voight at Republican National Convention 2012
Jon Voight Invokes His Jolie-Pitt Grandkids While Supporting Romney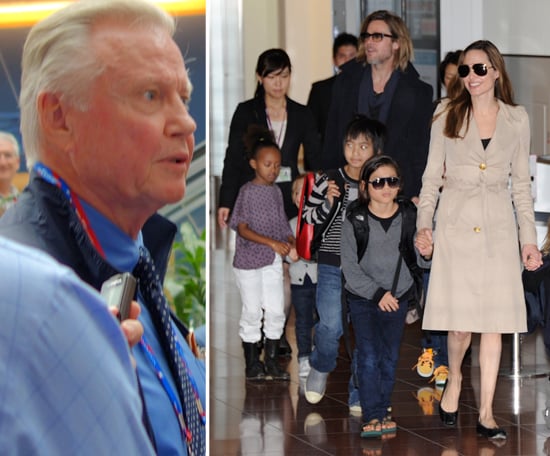 "I want my grandchildren to have the pride in America, and the freedom in America, and the prosperity in America that I experienced growing up," actor Jon Voight told us during the Republican National Convention in Tampa today. The father of Angelina Jolie and grandfather to her six children said, "If this fellow [President Obama] gets another four years, it's gone for my grandchildren."
President Obama may have a lot more famous backers, but Jon Voight makes for an impassioned Hollywood supporter of the Republican Party. In fact, he called himself "an enemy of the left" this morning, arguing that the left is "from a period when Marx said, 'God is man.' Everything based on Marxism is a disaster."
When we asked him if Romney will win over women voters, he told us: "I think they just need to get to know him. Mitt Romney is a tremendous guy. Anyone who's spent time with him loves him. And this is about substance, too. He's succeeded at everything he's done." Voight also had praise for Ann Romney, who speaks tonight, saying, "She's a force."
So does he talk politics with his daughter? "Occasionally we'll say a word or two." But one thing they don't talk about, apparently, is her wedding to fiancé Brad Pitt. Voight said, "I don't have any news about the wedding. I've heard it only in the magazines."