Judge Forces Couple to Get Divorced
Should Judges Force Couples to Divorce?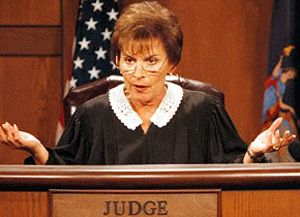 A New York City couple filed for divorce, but asked for the case to be dismissed after putting their tattered marriage back together. Yet a Supreme Court justice in Queens said they're getting the divorce they filed for, whether they love each other or not. Anything else is a waste of the court's time and money. His advice to them? Remarry.
"The remedy for these former litigants is to make new vows and a fresh start by remarrying," the judge wrote. "The court . . . congratulates the plaintiff and the defendant on their professed reconciliation."
"Professed reconciliation." I love it. Not surprisingly, the judge says he doubts the couple's rapprochement, as they're still not living together. The couple, of course, protests, saying they fear the stigma of divorce, which they really should have considered earlier!
Divorce lawyer Raoul Felder says the court is not government-subsidized marriage counseling. Considering all sorts of cases get thrown out every week, I question whether this is about saving money or making a statement. Do you think judges should force people who file for divorce to finalize it?