Julia Child Quotes
Julia Child's Food For Thought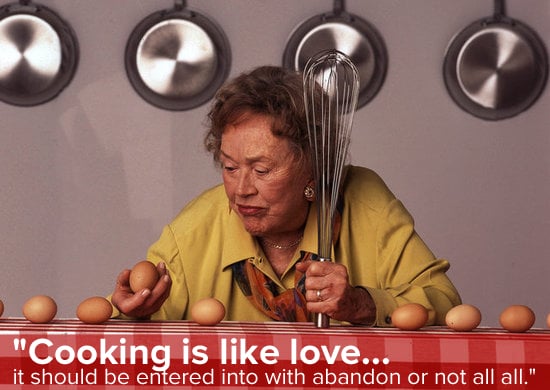 Throughout her life, Julia Child elevated America's relationship with food by sharing her love affair for French cooking and culture on television and in her cookbooks. But there's much to learn from the iconic chef, who would have turned 102 today, outside of the kitchen.
The 6'2" former member of America's OSS (Office of Strategic Services) married her fellow OSS employee, Paul, when she was 34. He previously had lived in Paris as an artist, and eventually they moved there together for Paul's new job as a diplomat. It was there that Julia cultivated her love for her husband and good food. Anyone who saw the movie Julie and Julia will recognize their love story. And while Meryl Streep did a worthy job capturing Julia Child's spirit, it also shines through Julia's own words, which touch on love, pleasure, and, of course, food. Reading through her quotes, you will find inspiration and various life mottos to choose from. If you want to add a dash of Julia Child to your life, here is a recipe for happiness based on her best lines. Bon appétit!
Go all in. "Cooking is like love; it should be entered into with abandon or not all all."
It's never too late to start. "I was 32 when I started cooking; up until then, I just ate."
Be prepared. "I think every woman should have a blowtorch."
Don't deprive yourself. "Everything in moderation . . . including moderation."
Don't accept imitations. "The only time to eat diet food is while you're waiting for the steak to cook."
Face fear head-on. "The only real stumbling block is fear of failure. In cooking you've got to have a what-the-hell attitude."
Embrace drama. "Drama is very important in life: you have to come on with a bang."
Don't let mistakes slow you down. "Always remember: if you're alone in the kitchen and you drop the lamb, you can always just pick it up. Who's going to know?"
Be friends and lovers. "We had a happy marriage because we were together all the time. We were friends as well as husband and wife. We just had a good time."