Just Salad Launches Dating Site by Salad Preference
Find Your "Salad Soulmate" at Niche Dating Site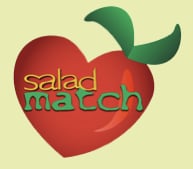 Just because there are dating sites that match people by book interest doesn't mean we should pair people by a shared love of crumbled goat cheese, arugula, and lunch-spot fanaticism. Yet here we are, mid-September of 2010, and a dating-by-salad site promises to find your "salad soulmate."
Thankfully, it's clearly a marketing ploy. Started by Just Salad, a New York- and Hong Kong-based chain restaurant, Saladmatch.com doesn't seem to take its matching abilities too seriously; however, Just Salad definitely takes its brand very seriously.
"So much of our brand is just about having fun," said Nick Kenner, a Just Salad managing partner. "This is just kind of another way for our customers to have fun when they're not actually in our store." Yes, because we all want to interact with our favorite "midday meet market" on Saturday night.
So does it work? Depends on what you're looking for. All Salad Match guarantees is "you will have lunch or dinner tastes in common," which is actually more than most dating sites.