Kate Middleton Pregnancy Information
Frequently Asked Questions About Kate Middleton's Pregnancy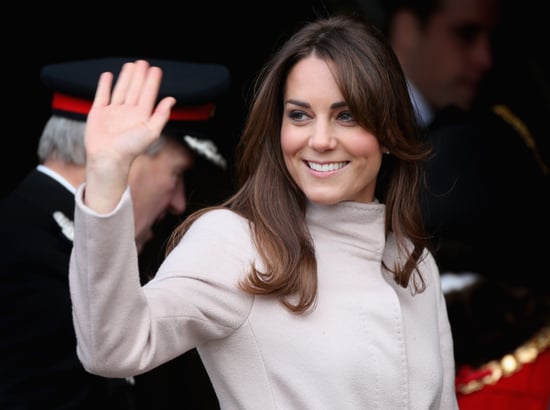 News of Kate Middleton's pregnancy broke only days ago, but already there's been a steady appetite for updates about her condition and the royal baby growing inside of her. The Duke and Duchess of Cambridge's baby will be third in line to the British throne, bumping Prince Harry down to the fourth position. Since Will and Kate were forced to reveal the good news before they wanted to, due to Kate's acute morning sickness, the public will be following along with the pregnancy for longer than expected. To get up to date, here are some FAQs and answers about Kate's pregnancy.
Q: How far along is she?
A: The palace has only confirmed that Kate is less than 12 weeks along. Some sources says she is only eight weeks along, which would mean we can expect a baby at the end of June or early July.
Q: What is hyperemesis gravidarum?
A: In Latin, hyperemesis means vomit and gravidarum means pregnancy. Yikes. The illness, often abbreviated to HG, inflicts one percent of pregnant women and can cause a pregnant woman to lose five percent or more of her body weight. It amounts to extreme morning sickness, and symptoms include debilitating vomiting, nausea, and dehydration. Kate is reportedly responding to treatment, which can include an IV for fluids.
Q: Does it matter if it's a girl or boy when it comes to succession?
A: It won't. This week, Nick Clegg, the UK's deputy prime minister, announced that all Commonwealth countries have given rushed consent to a plan to change the laws of succession to abolish male primogeniture. Traditionally, the daughter of a royal heir could inherent the crown only if she had no brothers. As soon as possible, the UK plans to finalize the law that will allow William and Kate's firstborn to become the monarch one day, regardless of whether they have a boy or girl.
Q: What if Kate has twins?
A: Hyperemesis gravidarum is more common when a woman is pregnant with twins, so what would it mean if Kate has a pair? Whichever twin is born first, even if it's just by a few minutes, would be the future monarch. A similar situation happened last year in Denmark. Crown Princess Mary of Denmark gave birth to twins and the boy was born 25 minutes before his sister, taking the spot in line to the throne before her.
Q: What if she has twins via C-section?
A: If Kate gives birth to twins via C-section, the twin the doctor pulls out first would become next in line after William.
Q: What will the name be? Keep reading for the answer to that and more FAQs!
A: Don't expect a trendy baby name like Apple, Bing, or Suri. The formal royal family even chooses to call the duchess "Catherine" rather than Kate. The royals often have four names, and William's is William Arthur Philip Louis. For a girl, we should definitely expect to see Elizabeth in there somewhere, perhaps as a first name. After a King Charles and King William, people might be ready for a Queen Elizabeth III in a few generations. There might also be a nod to Princess Diana, or her middle name, Frances. For a boy, we could see names like George, the name of the two kings who reigned before Queen Elizabeth II, as well as Philip after Prince William's grandfather, or Henry, which is Prince Harry's real name. Or maybe a James, in honor of Kate's brother.
Q: What will the baby's title be?
A: Grandchildren born to Queen Elizabeth's sons automatically get the title of prince or princess. Thus, Prince William is a prince, but Zara Phillips is not a princess. But what about great-grandchildren of the monarch? The queen has the power to confer a title on Prince William and Kate Middleton's baby, and the royals have made it clear that, in fact, the children of the couple will be called by prince or princess. Prince William's title is Prince William of Wales, thanks to his father's title as Prince of Wales, which William will likely inherit when his father becomes king. So the couple could choose to stay with Wales or opt for Cambridge.
Q: Who is Kate's doctor?
A: The queen's current and former gynecologists are said to be caring for Kate. Alan Farthing has been the queen's gynecologist since 2008, and this would be his first royal birth. He was engaged to BBC TV presenter Jill Dando, who was murdered in 1999. The queen's former gynecologist, Marcus Setchell, is also treating Kate. He delivered two of the queen's grandchildren and performed a hysterectomy for Camilla, Prince Charles's wife. I guess that's all public information when you're a royal!
Q: Who will be godparents?
A: Siblings Prince Harry and Pippa Middleton are the favorites right now. If Will and Kate decide to choose the best man and maid of honor, that baby is going to have one fun set of godparents! But they might also get some help. In royal circles, it's common for a child to have more than two godparents. Prince William had quite a batch, including former King Constantine II of Greece, Princess Alexandra, The Honourable Lady Ogilvy, the Duchess of Westminster, Lady Susan Hussey, Lord Romsey, and Sir Laurens van der Post.
Q: Will there be a postbirth photo opp?
A: You bet! Following Prince William and Prince Harry's births, Princess Diana and Prince Charles posed for photos outside of the hospital. We're definitely looking forward to that!