Kate Middleton and Prince William Have Marriage Counseling With Church
Would You Take Marital Advice From Your Church?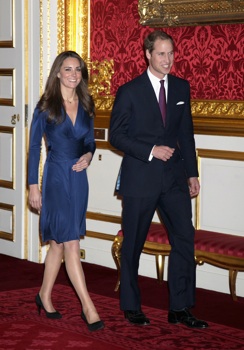 While Kate Middleton's princess training is already in session, she and her prince will soon have joint sessions on how to have a successful marriage with the Archbishop of Canterbury and the Bishop of London.
The clergy's advice is likely to include setting the correct tone at their April wedding, the dynamic of their relationship, family planning, and role-playing scenarios for situations they could face.
This doesn't sound terrible since they will have a unique marriage, but I've always been wary of church-sponsored marriage training. Mostly because I grew up Catholic, and lots of churches require a six-week course called Pre-Cana if a couple plans to marry in the church. Really, why would I take advice from someone who's never been married or, probably, never even been in a relationship?
I realize that's not the case for every religion, but what about being a God expert makes someone a marriage counselor? Catholicism's Pre-Cana sessions are supposed to cover compatibility, basic principles of Catholic marriage and family life, conflict resolution, and rules couples should follow, yet my mother's course in 1975 included this tip: never go to breakfast without lipstick on.
So regardless of your religion, would you take advice from your church?