Kathleen Parker Calls Obama First Female President
Obama Our First Female President?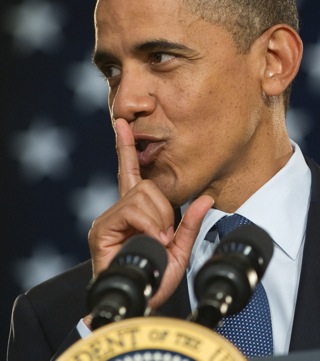 Not only did Barack Obama beat Hillary Clinton, but he also became the country's first female president. That's what Washington Post columnist and newcomer to CNN Kathleen Parker wrote today, arguing that Obama's wimpy leadership on the oil spill makes him clearly female. Parker suggests that Obama could handle national crises much better if he started acting like an alpha-male.
So what "female" characteristics does Obama possess? Parker says Obama's tendency to build coalitions is totally girlie (men are more mavericky), plus his tendency to meet with advisers proves he's really chatty, just like the ladies. Parker thinks some more masculine outbursts would surely help stop the oil spill. She writes: "His lack of immediate, commanding action was perceived as a lack of leadership because, well, it was," and of course a lack of leadership is a feminine trait not fitting for the "masculine-coded context of the Oval Office."
It may be true that presidential rhetoric and action matter, but what's up with resorting to the political version of "you throw like a girl." Whatever. I'm still holding out for the first female president.