Katniss and Peeta in The Hunger Games Movie
Romantic Moments in The Hunger Games Movie That Aren't in the Book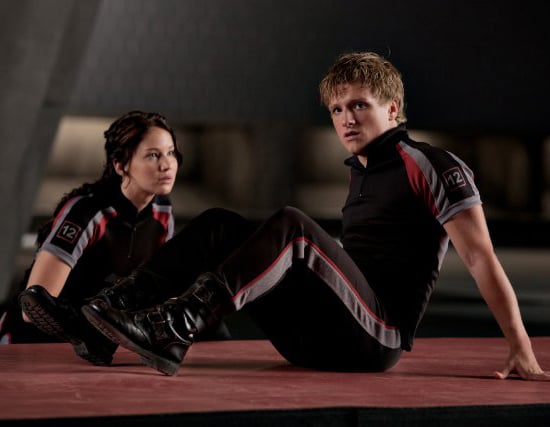 The Hunger Games are finally upon us! While the love triangle between heroine Katniss and her two romantic interests Peeta and Gale runs through the Hunger Games book series, Katniss's best friend Gale really takes a backseat in the first book and movie as it's Peeta she shares the game arena with. We swoon for the lovey moments between Katniss and Peeta in the book (even if some of the affection was for the Capitol cameras), so we were so excited to see how their chemistry would play out in the movie. Let's just say, it didn't disappoint! And some of the onscreen romantic interactions between the two star-crossed lovers really stood out, since they ventured outside the lines of the book. Check out the romantic moments between Katniss and Peeta in The Hunger Games movie that weren't in the book now! (Minor spoilers ahead.)
There's a sweet moment when Peeta shows his affection for Katniss by gingerly touching her braid.
When Katniss and Peeta finally address the first time they met, Peeta says, "I think about that all the time." And then he adds that he shouldn't have thrown the burned bread to her; he should have run to hand it to her.
After Peeta makes his surprising revelation during his interview with Caesar that he has a crush on Katniss, she angrily shoves him against the wall. When Katniss cools off after realizing it could help her chances at the games, Peeta smiles and says, "It was supposed to be a compliment."
The night before the games — after Peeta tells Katniss that if he's going to die, he wants to die himself not a pawn — Peeta and Katniss say goodnight and give each other a look that shows they may have feelings for each other.
Peeta tells Katniss that the first time they met she had two braids instead of one.
In the end, Katniss says that she wants to forget what happened in the games. But Peeta responds, "I don't want to forget," alluding to their shared time together.