Khloe Kardashian For U by Kotex
Khloé Kardashian Odom Tells Us Women and Girls Shouldn't Be Shy About Their Bodies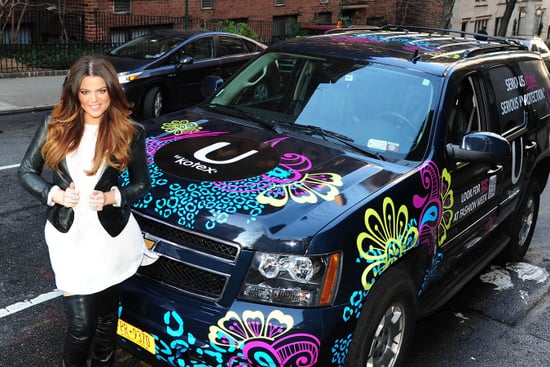 While Kris Jenner is making headlines for promoting a very adult product — arousal oils to be exact — her daughter Khloé Kardashian Odom is appealing to a younger audience. Khloé has teamed up again with U by Kotex, the eccentric line of pads and tampons for young women. Khloé told me that she loves that the line is "trying to destroy the old-fashioned belief that we have to be so discreet" and that it also supports the charity Girls for a Change. During fashion week, a fleet of branded U by Kotex taxis will be picking people up at Lincoln Center and in the Meatpacking District, and donating up to $100,000 to the charity. I chatted with Khloé, and she opened up about the awkward years in the Kardashian household, as well as her move to Dallas for love. Keep reading to find out all about it!
TrèsSugar: Why did you team up with U by Kotex?
Khloé Kardashian Odom: I love their packaging, the neon colors, the black boxes, they're trying to make everything so chic, and fun, and vibrant, like it's OK. Especially if you're in high school and you're pulling out one of those tampons or maxi pads, it's not as embarrassing. I love being able to let women, and especially younger women, know that it's OK to talk about this and to ask questions.
TS: Would this message have appealed to you when you were younger?
KKO: I am so thankful that I had older sisters, because I had a really tough time in school. I was always bullied in school. If it wasn't for my older sisters always making me feel like everything was OK and being able to ask them questions, I don't really know how I would have gotten through those years. I love that this brand is almost like an older sister but on a larger scheme. They're letting everyone know that this is what happens to everybody and it's awkward for everyone.
TS: So who did your older sisters talk to? Did your mom fill that role?
KKO: Kourtney told me that she didn't even tell my mom she got her period for the first year and a half. She said she told her friend and her friend just told her what to do. To me, I find that so weird. But that's Kourtney. Kim was always very open about it, but I think Kim got hers first, and I think Kourtney got jealous. Kids are weird! I don't get what that jealousy is. I'm like, "Honey, please. Be grateful that you don't have it." It's so funny that I'm 27, and my sisters are 16 and 14. I'm not so much older than them, but the comfort in talking about your bodies grows so much.
TS: Do you have an awkward or funny memory from that time?
Find out Khloé's answer, as well as the scoop on Dallas, when you keep reading.
KKO: My parents were divorced. I don't think I ever told my dad, "Oh, I started my period." But to ask my dad, "So can I go buy feminine products?" was not easy. I remember the first time. I was like, "Can you just take me to the grocery store. I just need to go to the grocery store." And he was like, "No, just what do you need?" And I did not know what to say. I just remember the first time I had to say it, and he was just like, "OK. You can come to the grocery store with me."
TS: Why do think young women or girls can relate to you?
KKO: I try to be me and who I am. I don't try to please everyone, I'm very honest about my struggles and I'm not trying to portray I'm perfect. I've had very awkward years, and I've been overweight, and I've been very vocal. I find that very flattering if they do relate.
TS: As you've grown up, what makes you feel confident and comfortable?
KKO: My weight goes up and down and it depends. But I have learned that even if you are trying to follow a trend, you have to dress for your specific body. I've also learned to love certain body parts. I know that no matter if I'm 10 lbs overweight or 10 lbs under, my legs pretty much stay the same. So those are my go-to body part to show off.
TS: So are you and Lamar celebrating Valentine's Day in Dallas?
KKO: I am going to be in Dallas for Valentine's Day. The whole day, Lamar and I will be together and literally doing nothing. We're just going to lay in bed and veg out. We want to be boring and order in food and do nothing and not even shower and be dirty and gross in bed together.
TS: Are you still a Lakers fan?
KKO: I'm always going to be a Lamar Odom fan, no matter where he goes that's who I'm rooting for. But the only organization I've known was the Lakers. They've been so good for us. I'll always love them.
TS: Is the Kardashian family planning a trip down to Dallas?
KKO: They have been surprising me! Lamar's had a difficult time adjusting, and by doing that they've helped. I just love my family. Even though sometimes I want to throw them against the wall, I just want to put them in a bowl of jelly and lick them. I want to kill them and lick them, I'm not sure what that means.