Kim Kardashian Engagement Ring
Colossal Engagement Rings: Too Much or to Each Her Own?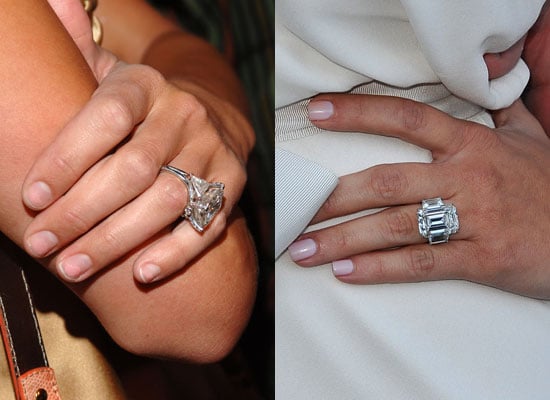 I'll admit that I'm a bit of a magpie and a sparkly diamond can make me smile. But when I saw Kim Kardashian's 20.5-carat engagement ring, I wondered if there's such a thing as too much bling. Celebrities have boatloads of cash, we all know that, so is flaunting your assets with such an ostentatious accessory really necessary?
And Kim isn't the only one with a ginormous rock. Back in 2005, Paris wore a whopping 24 carats on her ring finger, and she wasn't shy about reminding us all that her $5 million piece of jewelry trumped Kim's $2 million diamond. We've been discussing the bodacious bling with friends and co-workers, and while some may think "hey, if they have the cash, why not?" others argue that it's just wrong to put that much money on daily display when it could be put to use helping others or bettering the world. What do you think?