Kotex Products For Tweens
Do 8-Year-Olds Need Maxi Pads? Kotex Thinks So
Kotex is continuing its quest for world menstruation domination: first it launched a series of witty and to-the-point tampon ads, then it announced a maxi pad design contest. Now it's launched a new line of "tween" products, targeted toward younger girls (obviously), which are smaller, thinner, and . . . sparklier.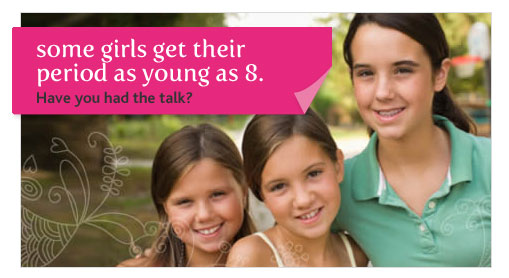 Along with the sanitary bling, Kotex is also pushing a "Pick Your Day" message, encouraging moms to set a special date on the calendar to talk to their daughters about getting their period for the first time. According to a video on Kotex's site, one-third of girls get their first period before age 11, so the brand is suggesting that parents may need to tackle the issue sooner than they think.
Some of the suggestions are a little over the top — I think I would die if my mom scheduled a "spa day" with 10-year-old me to "talk about what it means to be a woman" — but the message overall actually seems extremely healthy. Rather than treat a girl's period as a secretive, embarrassing experience, Kotex is encouraging parents to educate their daughters, talk openly about it, and turn it into a special occasion worth celebrating.
What do you think? Is it about time we start educating girls earlier about an inevitable rite of passage, or is this just too much?