Kristen Stewart Won't Play a Feminist Hero in On the Road
Kristen Stewart Won't Play a Feminist Hero in On the Road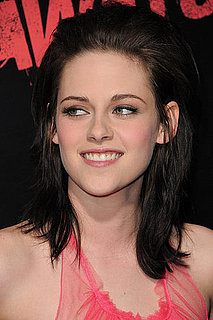 Kristen Stewart confirmed yesterday she'll play Marylou in Hollywood's long overdue movie of Jack Kerouac's book On the Road. Inspired by real-life LuAnne Henderson, the 15-year-old (first) bride of Neal Cassady, Marylou travels with Sal (Kerouac) and Dean (Cassady) from Denver to San Francisco to Virginia. But despite the character's famed nonconformity, Kristen won't be depicting a female revolutionary like she did in The Runaways.
Marylou, like most beatnik women, is little more than an accessory to a hedonistic lifestyle. When her husband finds a new woman in On the Road, he tries to hand her off to pal Sal. Yet she sticks around anyway, only to end up a sort-of prostitute and in a second marriage to a used-car salesman. Sadly, despite the '50s counterculture reputation for clearing the way for a mainstream sexual revolution in the '60s, gender roles changed slowly.
Pop culture's most recent portrayal of a female beatnik in Mad Men's first season may make you think otherwise. Don Draper's arty, downtown mistress Midge (played by Rosemarie DeWitt) supports herself by writing cards as fast as Hallmark can dream up new holidays. She dismisses the already-married cad's marriage proposal with "You know the rules, I don't make plans and I don't make breakfast." Perhaps true, but, judging by what little art women of the beat generation produced, creativity was a boys' club.
But female writers had another impediment: men weren't publishing it. Beat poet Gregory Corso said women living a bohemian lifestyle in the '50s were considered crazy and unstable — social lepers. Diane di Prima — one of the few female poets to emerge from the beat generation — confirmed it in The Beat Vision.
"Potentially great women writers wound up dead or crazy," she said, "One woman that I was running around the Village with in '53 was killed by her parents putting her in a shock-treatment place in Pennsylvania."