Lady Gaga's "Judas" Upsets Catholic League
Is Lady Gaga's New Single "Judas" Worth the Controversy?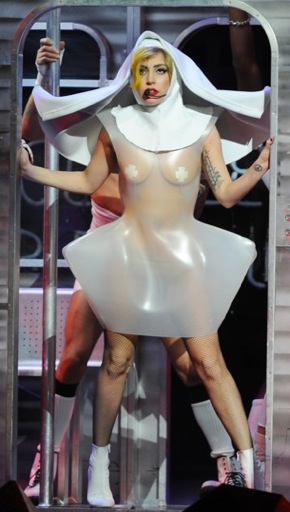 Lady Gaga's latest song, "Judas," dropped last Friday, on time for Holy Week. In the song, Gaga declares her love for Judas, and in the upcoming video expect to see her decked out as Mary Magdalene.
The president of the Catholic League for Religious and Civil Rights has already condemned the song, and Lady Gaga's talent in general, saying: "Lady Gaga tries to continue to shock Catholics and Christians in general: she dresses as a nun . . . she swallows the rosary. She has now morphed into a caricature of herself . . . She is trying to rip off Christian idolatry to shore up her talentless, mundane, and boring performances."
Lady Gaga seemed to use her Catholic-school background for the track, drawing "Judas" lyrics from her own eccentric interpretation of the Bible. "When he comes to me, I am ready. I'll wash his feet with my hair if he needs," goes one verse. "Forgive him when his tongue lies through his brain. Even after three times, he betrays me. I'll bring him down, a king with no crown."
After Madonna's "Like a Prayer" upset the Catholic Church way back in 1989, it's easy to consider the reaction to, and perhaps the existence of, Lady Gaga's new track "Judas" as predictable. Do you think Gaga's religion-infused song is worthy of controversy, or is it just an expected pop-music gimmick?