Lady Gaga's Rolling Stone Cover With Machine Gun Bra
Lady Gaga Uses Sex Appeal as a Weapon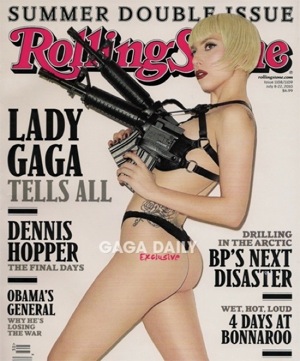 The tension between female empowerment and objectification is clearly seen on Lady Gaga's upcoming Rolling Stone cover. The machine guns send a message of power, while we're still allowed to see her in a thong and not much more. But by fusing these seemingly contradictory symbols of empowerment and objectification, the cover sends the message that a woman's sexuality is her weapon.
Nancy Bauer writes in the New York Times that Lady Gaga and her female fans risk confusing sexual power and self-objectification. Discussing these young women, Bauer says:
On the one hand, they have been raised to understand themselves according to the old American dream, one that used to be beyond women's grasp: the world is basically your oyster, and if you just believe in yourself, stay faithful to who you are, and work hard and cannily enough, you'll get the pearl. On the other hand, there is more pressure on them than ever to care about being sexually attractive according to the reigning norms. The genius of Gaga is to make it seem obvious — more so than even Madonna once did — that feminine sexuality is the perfect shucking knife.
What better way to symbolize the power of feminine sexuality than with a machine gun bra, which makes a lethal weapon an extension of a woman's breasts? It's a woman's prerogative to yield her sexual power as she wishes, but Bauer explains that often young women feel torn between self-empowerment and pleasing guys. And it's yet to be seen if Gaga's persona will further that confusion.