Lady Gaga Tops Forbes Celebrity 100
Forbes's Most Powerful Lady Gaga Beats Oprah: Who's Your Pick?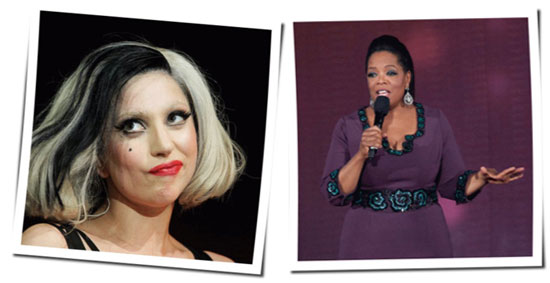 This year's Forbes Celebrity 100 list is out, and Lady Gaga takes the No. 1 spot, beating out No. 2 celeb Oprah Winfrey. This is a notable changeup in the annual list of most powerful people in the entertainment business, given that in the past seven years Oprah has been No. 1 four times. One reason the pop singer beat out the talk show host, despite making less money ($90 million vs. $290 million), was that Forbes took media influence more into consideration.
Here's what earned Lady G her spot at the top:
More than 32 million Facebook fans and 10 million Twitter followers.
"Born This Way" had 1 million digital downloads in five days — fastest-selling song in iTunes history.
15 million albums sold worldwide.
Endorsement deals with Polaroid, Virgin Mobile, Monster Cable, Viva Glam, and PlentyOfFish.com.
A Russian billionaire paid a cool $1 million to cameo in "Alejandro" music video.
Between the two women, who would you rank as the most powerful celeb? And share your reasons why in the comments!