Lady Lazarus and Mad Men
The Poem That Inspired Mad Men's "Lady Lazarus"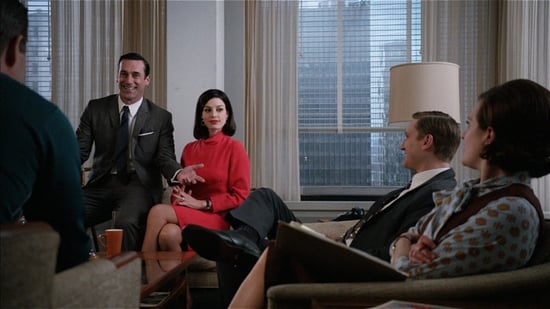 Megan Draper sets out for a new life this week on Mad Men, as she quits her job at Sterling Cooper Draper Price to resurrect her acting career. As the title of the episode, "Lady Lazarus," suggests, our friends on Mad Men are adapting to new lives. Don lets Megan pursue her acting dream, but he's lost at work without her. Pete has morphed into the sad Don of the past, cheating on his wife and sneaking around. Megan is leaving the working world to go back to acting class and auditions, finding time to play the housewife in between.
The episode borrows both its title and themes from a Sylvia Plath poem ("Lady Lazarus") about rebirth. Lazarus, of course, refers to the man Jesus raises from the dead in the Bible. In Sylvia Plath's poem, which uses allusions to Nazi Germany, the narrator almost dies three times. The first is an accident, the second is a failed suicide attempt. Sylvia Plath did commit suicide in real life, and her "Lady Lazarus" poem reads in part:
The second time I meant
To last it out and not come back at all.
I rocked shut

As a seashell.
They had to call and call
And pick the worms off me like sticky pearls.

Dying
Is an art, like everything else.
I do it exceptionally well.
Finally, the third time, she is reborn like a phoenix: "Out of the ash/ I rise with my red hair/ And I eat men like air." The rebirth is not wanted, and she hopes to eat the men who continue to revive her.
The episode about new life came filled with overt references to death, just like Sylvia Plath's poem. When Pete talks life insurance with his train buddy, Howard, he touts that his current plan even covers suicide after two years. Howard later mentions that Pete's father died young, but in a plane crash — an accident. We also see Don warn Megan about the dangers of cooking barefoot, and Don nearly step into an empty elevator shaft. Later, Megan lies lifelessly on the floor during her acting class, and Don listens to the Beatles song "Tomorrow Never Knows," off their album Revolver. This season, you can find signs predicting the death of a variety of characters. But perhaps the line from the poem — "Dying/ is an art, like everything else/ I do it exceptionally well" — references Megan. After all, Peggy complains that Megan does everything exceptionally well.
The uncomfortable changes and rebirths present in both the poem and the episode could represent the societal upheavals happening in 1960s America. Change is coming whether these individuals want it, and rebirth is being forced on some of them.
Photo courtesy of AMC