Laura Linney Interview For The Big C
Laura Linney's Secret to Aging Is in Attitude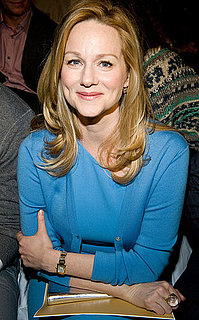 Hollywood may come up notoriously short with roles for women over 40, but not for Laura Linney. Though she's been a working actress since the early '90s, her career took off after crossing the middle-age threshold six years ago.
Now she's tackling mortality in The Big C, Showtime's new comedy about a 42-year-old woman with incurable cancer. In a New York Times Magazine profile, she says her own grappling with aging, mortality, and the deaths of friends — including Natasha Richardson, who died suddenly just months before she was offered the part — drew her to the dark comedy.
All that introspection is paying off. She's learned to appreciate aging by reframing her thoughts. Whenever she wants to complain, she remembers friends who've died and imagines them "taking me by my shoulders and shaking me: 'Snap out of it!'"
Aging is a privilege, she says, one that "a lot of people don't get."