Laura Prepon Cast to Play Chelsea Handler in Are You There Vodka? It's Me, Chelsea TV Show
3 Things Chelsea Handler Has in Common With the Actress Who'll Play Her
NBC is turning Chelsea Handler's bestselling Are You There Vodka? It's Me, Chelsea into a sitcom and has cast actress Laura Prepon to play a younger Chelsea in the series pilot.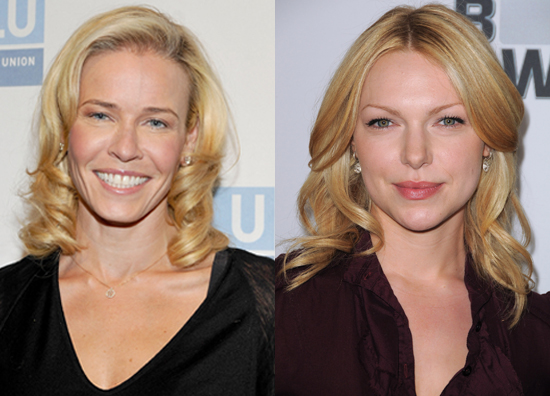 If Laura looks familiar, think back to That '70s Show (push Mila Kunis aside), and you'll remember Laura as the object of Eric Forman's (Topher Grace) obsession. Who knows if the show will even make it to the small screen — though it certainly has promise with Chelsea's increasing star power — but for now let's see what the two Chelseas have in common.
New Jersey: Yes, they both hail from not just Jersey, but northern New Jersey. They are living proof that there's more to Jersey than the Shore.
Youngest of big families: "I don't know what happened in your life that caused you to develop a sense of humor as a coping mechanism," 30 Rock's Jack Donaghy once said to Liz Lemon, "Maybe it was some sort of brace or corrective boot you wore during childhood." More likely, she was the youngest. Chelsea is the baby of six children, and Laura should have no trouble sympathizing as she's the youngest of five.
Made sexy women lists: Chelsea was ranked #91 on 2009's Maxim Hot 100, and Laura made her own, albeit less known, hot list. In 2002, she was named one of the 102 Sexiest Women of the Year by Stuff Magazine.
Have any to add?