Lena Dunham and Amy Schumer Quotes on Sex Scenes
Lena Dunham and Amy Schumer Lay Down Some REAL Talk About Sex Scenes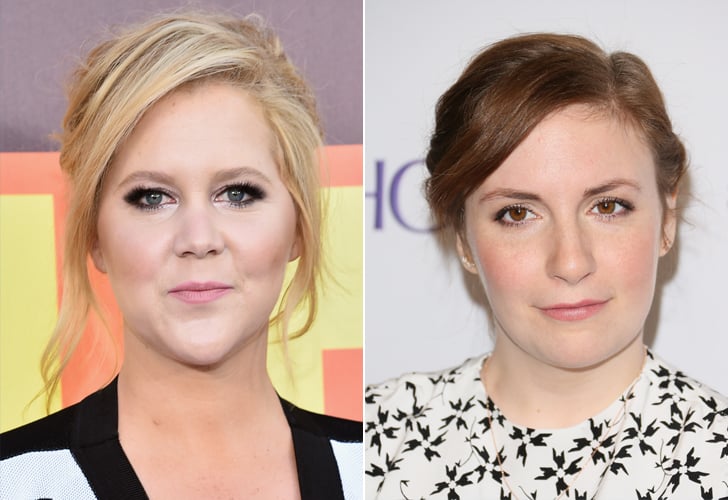 The funniest ladies on TV sat down with The Hollywood Reporter for a candid discussion about their careers — and sh*t got real. Lena Dunham (Girls), Amy Schumer (Inside Amy Schumer), Gina Rodriguez (Jane the Virgin), Ellie Kemper (Unbreakable Kimmy Schmidt), Tracee Ellis Ross (Black-ish), and Kate McKinnon (Saturday Night Live) held nothing back, and the results were utterly inspiring.
Touching on topics like feminism, humor, racism, and sexism, these women gave readers an inside look at what it's like to be both hilarious and intelligent. Their comments on nudity, sex, and controversial jokes are garnering attention from actors and fans alike. Check out some of the most scandalous pieces of their conversation below.
On How Far to Go For a Laugh
Schumer: I would never suck a d*ck for a laugh.

Dunham: I would never f*ck someone.

Rodriguez: I'm a brown girl, so I have to cross all the lines. I did just recently give birth onscreen [in Jane the Virgin].
On Nudity
Dunham: I stopped wearing the nude patch after the first season of Girls. There's not one guy who works on that show who hasn't seen the inside of my vagina.

Schumer: They could draw your ovaries.

Dunham: I used to wear the patch but . . .

Ross: What's the patch?

Dunham: This patch — you glue it over your vagina. It gets sweaty and always falls off. My male co-stars, at the end of the day, don't care.
On Filming Sex Scenes
Kemper: I've never done a sex scene. I am so prudish that when I've had to kiss someone in a scene, I think for the next hour that we're in love! It's a middle-school frame of mind.

Dunham: I never understand when people say, "Sex scenes are so mechanical; it doesn't feel like anything." It feels like someone f*cking you! It's confusing.

Ross: On network shows, there are a lot of instructions: "Close the mouth. You can move, make the sounds, but no tongue." I had some incidences on Girlfriends. This guy's tongue jammed in like a lizard out of nowhere.

Schumer: When I was filming [Trainwreck] last summer, I had a bunch of sex scenes. Full penetration. We went for it. (Laughter.) This guy we were going to have make out with me was like, "Um, do you want our first kiss to be on camera?" I was like, "No, no, come to my trailer and we'll make out beforehand." It was so grotesque. I'm like, "Did you think I cast you because I want to make out with you?" Then there was a lot of unnecessary touching. I was like "Get that guy out of there."
Read the entire interview and watch videos on the funny girls at The Hollywood Reporter.