The Library's Popularity on Rise
Do You Go to the Library?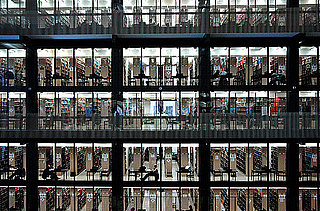 I've become all too comfortable with ordering books from Amazon. They appear, as if by magic, on my work desk two days later, and sometimes I forget I bought them, so it's like Christmas. And the last time I went to the San Francisco library, there were bums taking their afternoon snooze on every floor. But I loved the library in college! It was beautiful, and it didn't talk too much.
NPR is now declaring libraries the new cupcakes, which is a ridiculous metaphor, but it goes on to make a case for the library's comeback. They are environmentally friendly, and librarians are genuinely nice, knowledgeable people who want to help you, not sell something. There's free WiFi and more seats than in bookstores.
I'd like to add that the more people buy ebooks, the less they'll be consumed by building physical libraries at home, making them more likely to check out at the library than at the store. Plus, at least one celebrity loves them! What about you?
Source: Flickr User limonada