Lindsay Lohan's Prison Gifts
The Truth About Lindsay Lohan's Prison Loot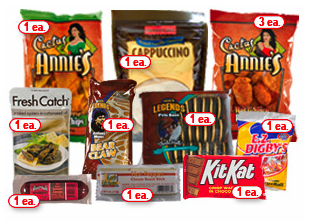 Prison is not Summer camp, but it can seem like a step up from Army basic training. Inmates can receive gift packages, from specifically designed prison gift services, and purchase similar items at on-site commissary stores.
With Lindsay Lohan serving her nine or 90 days at the Lynwood Correctional Facility, she — and all other inmates there — get $135 to spend each week on food and personal items. TMZ tracked down the store's menu, and items range from basic necessities (shampoo, toothpaste, Kit Kats) to the more indulgent (lipstick, drawing tablets) to the weird (thongs).
While the commissary is for buying necessities and small luxuries, it's also a way to enforce a reward-punishment system over inmates. Fall out of line, act out, basically do anything wrong, and you'll have to start handing over treats, even the "hot and spicy pork cracklings."